If you're visiting Ras Al Khaimah, chances are you'll be staying in a resort where there's no need to actually leave the complex. There'll be plenty of pools, restaurants, huge sandy beaches, watersports, plus state-of-the-art spa and fitness facilities to enjoy – granted.  However, if you do decide to venture out and explore the local area, Ras Al Khaimah serves up a medley of exciting Arabian experiences. 
It's where Dubai locals go to escape the hustle and bustle of the city, in search of quieter beaches, outdoor pursuits and a spot of culture… 
Ras Al Khaimah National Museum  
Ras Al Khaimah (RAK) is archaeologically important, as it's said to be inhabited since 3000BC. Housed within an 18th century fort, the Ras Al Khaimah National Museum does a good job of explaining the emirate's far-reaching history. This museum transports you back to a time of pearl divers and fishermen, before the region's oil boom in the 1960s, as well as showcasing intriguing ancient archaeological artefacts including traditional weapons.
Jazirat al-Hamra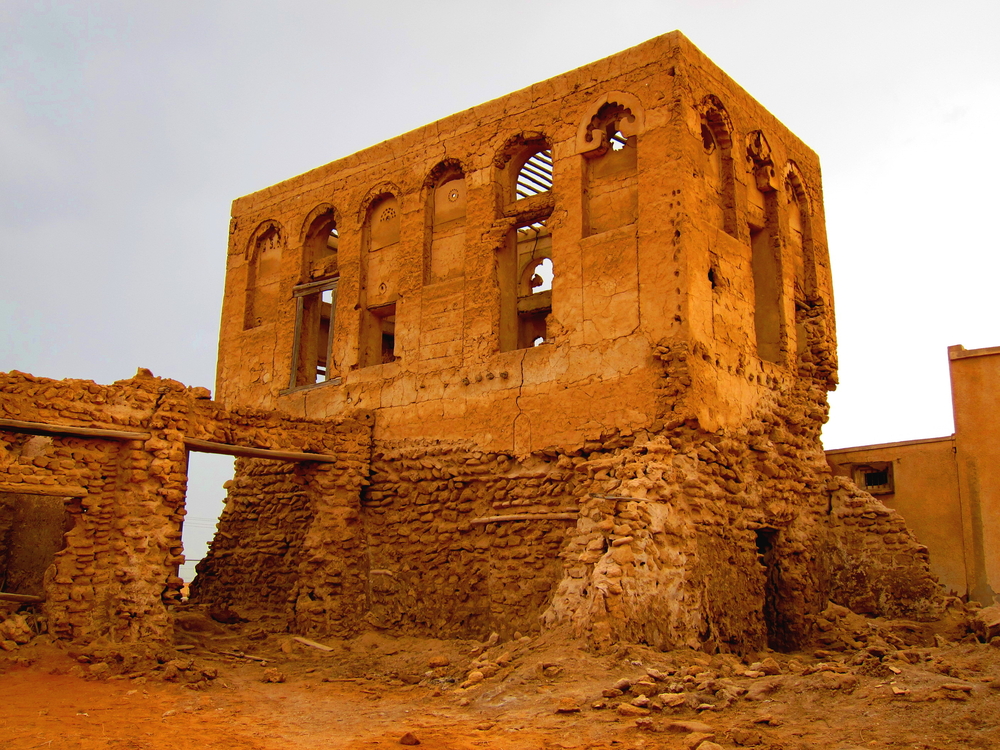 Visit the real-life ghost town of Jazirat al-Hamra, the UAE's best-preserved ancient village. If you're brave enough to visit, you'll discover a real sense of what life was like for the locals in the pre-oil era. Walk through the eerily empty streets and you'll pass abandoned schools, shops and dwellings at sunset – a particularly atmospheric experience.
Saqr Park
The largest public park in Ras Al Khaimah, Saqr is a popular pastime for locals, families and picnic lovers alike. Head to this open green space to get away from it all, where you can admire its artificial lake and waterfalls, wander the Land of The Garden area and let the kids loose on one of three play areas.
Al Hamra Beach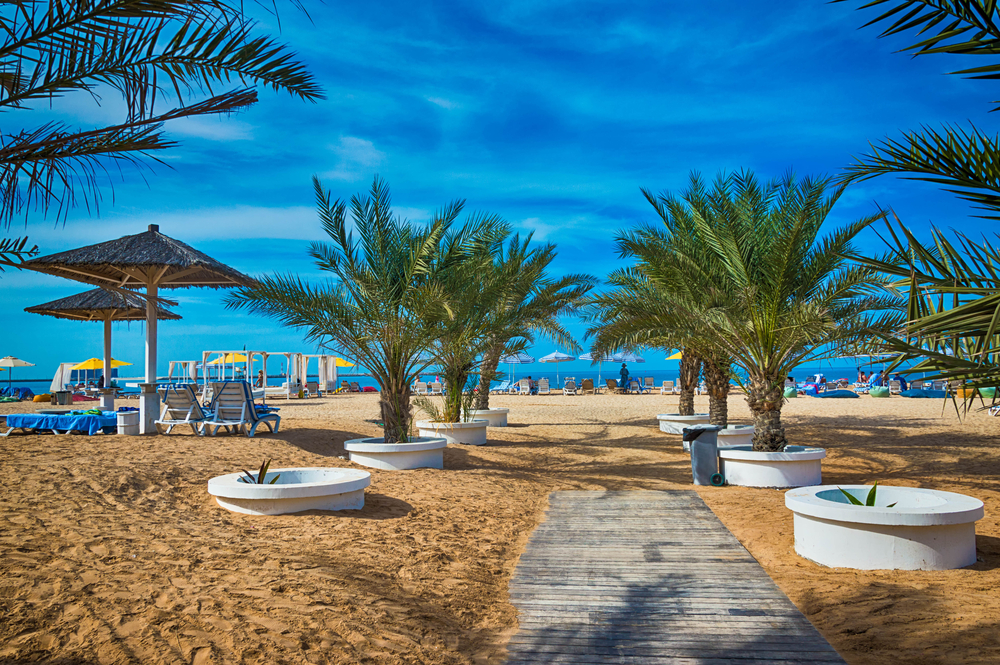 Not far from the Jazirat Al Hamra ghost town is this pretty public beach, with soft golden sands and inviting waters. Stick around long enough to watch the sun set and you won't be disappointed.
Khatt Springs
If you're into wellness, a visit to these hot springs is a must. Set in the midst of a palm-lined oasis with the stunning Hajar Mountains providing the backdrop, this is where Dubai locals come to get away from it all. The mineral-rich water is noted for it's therapeutic and healing properties.
Jebel Al Jais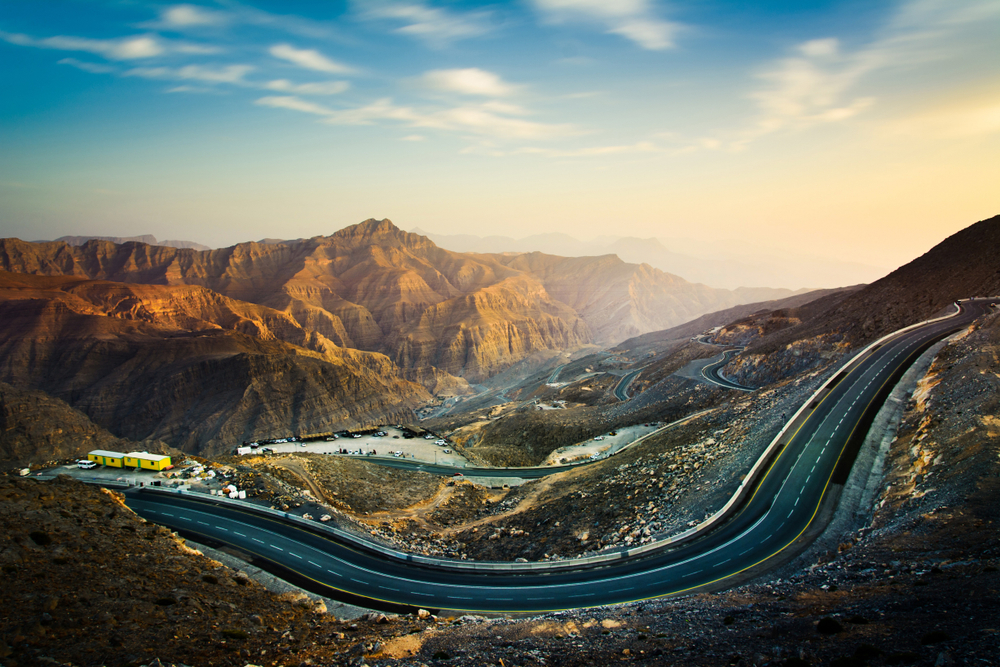 If you fancy an exhilarating drive, this is one of the best roads in the emirates and an experience you don't want to miss. Hire a Range Rover, Ferrari or an Aston Martin (or even a mountain bike if you're feeling energetic!) – whatever your mode of transport, you'll enjoy the journey to the top of the highest mountain in the UAE and admire the spectacular views.  Believe it or not, there are plans to build a ski resort up here (it has been known to snow, although no doubt machines would be required for the 'occasional' top-up!).
Watch Camel Racing
Camel races take place during the winter months and it's (unexpectedly) like something out of the Wacky Races. Think robot jockeys sitting on top of their camels while the owners drive alongside in 4x4s, operating the remote control – mental, we know, but definitely worth the watch.
Go on Desert Safari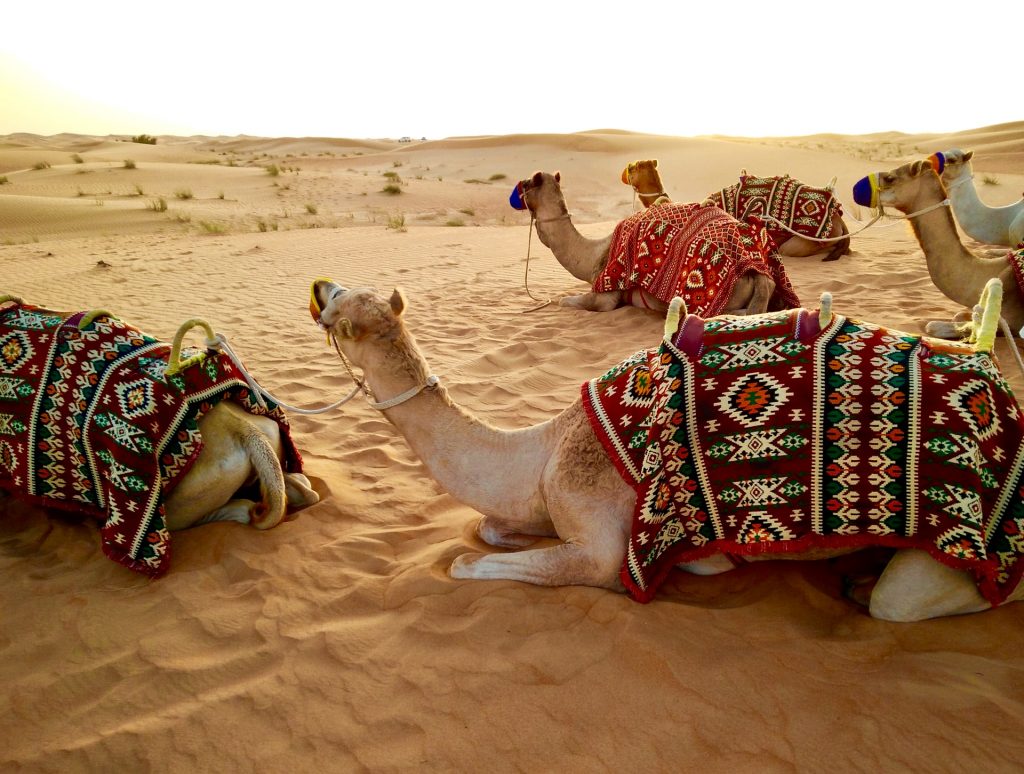 A trip to Ras Al Khaimah wouldn't be complete without a memorable day out in the desert. Begin by braving a hair-raising drive across the waving sand dunes in a 4×4, before taking a leisurely camel ride and finishing with a traditional Arabic BBQ dinner around a campfire – now that's a day of adventure.
Wild Watersports
With temperatures regularly soaring over 30°C in the summer months, watersports are understandably popular.  All kinds of water-based adventures are on offer here, from micro-gliding, parasailing, jet-skiing, water-skiing, banana boat rides, doughnut rides, fishing trips, scuba diving, sailing, flyboarding… the list goes on and on!
Horse Riding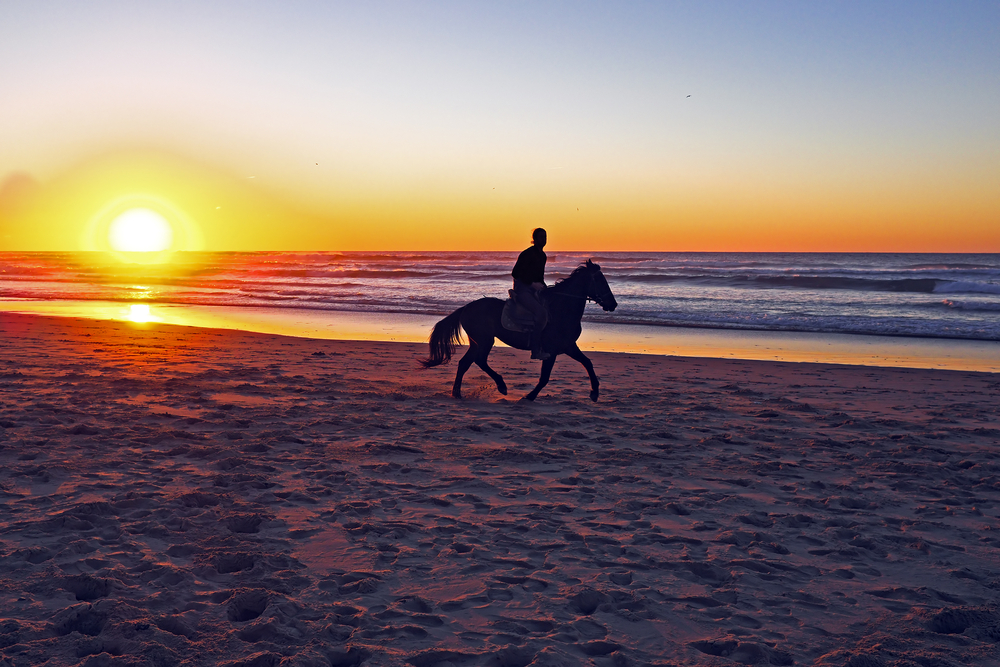 If you prefer calmer, less exuberant activities, head over to the Ras Al Khaimah Country Club and try your hand at horse riding. Take a trek through the emirate's nature reserve on horseback and admire the scenery.
Shop At A Glitzy Mall
Want to satisfy your shopping fix? Head to the Manar Mall – one of the best in RAK. Browse its luxurious stores and designer boutiques before dining in one of the many eateries  – or catch a film at the in-house cinema?
Day Trip To Dubai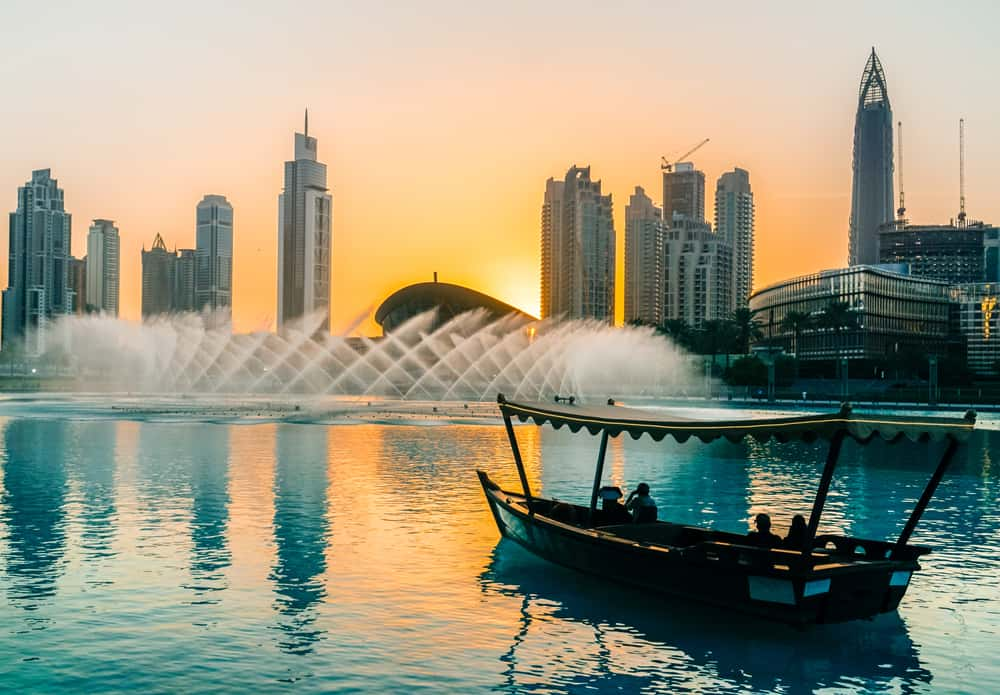 It makes sense to hop over and visit the metropolis of Dubai while you're on holidays in Ras Al Khaimah. Most hotels run a free shuttle service to the city (which is less than an hour away), enabling you to take advantage of Dubai's tourist hot spots for the day.
Jebel Jais Flight Zip-Line
Are you brave enough to soar over the Jebel Jais Valley on the largest zip-line in the world? Guinness World Record certified, this thrill-seeking experience will whizz you a distance of 2.8km across the mountains at speeds of 150mph – so it's not for the faint hearted! This popular attraction is must if you consider yourself an adrenaline junkie.
Hajar Mountains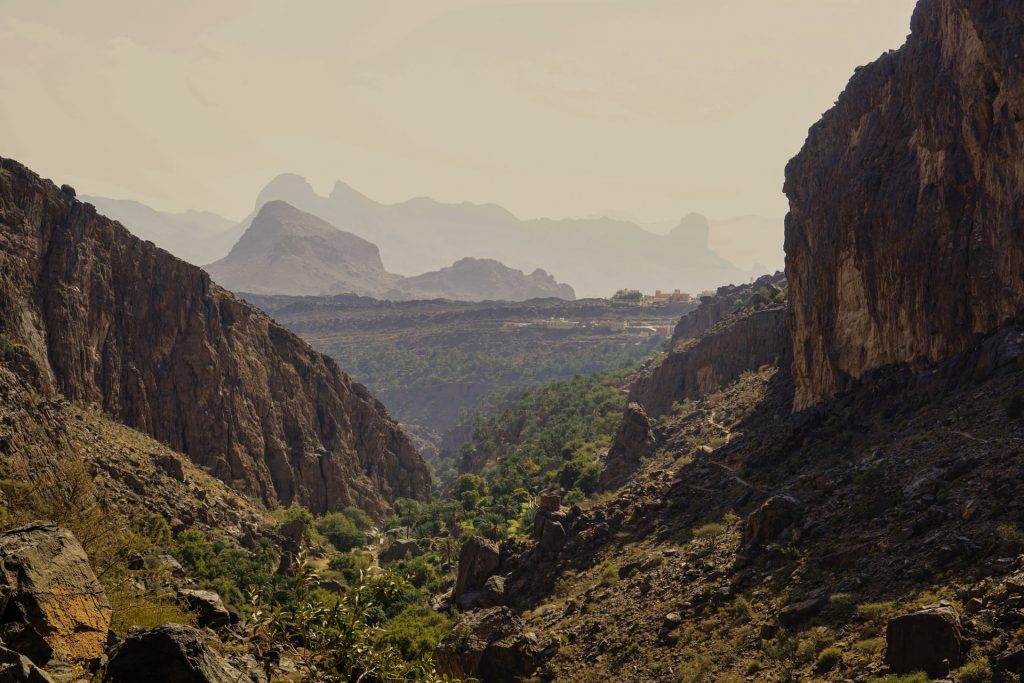 If you like to soak up a destinations natural beauty, embark on an off-road safari trip through the foothills of the scenic Hajar Mountains. The highest mountain range in the eastern Arabian Peninsula (also known as the "Oman Mountains"), on your Hajar Mountain safari tour you'll discover the dramatic gorge, stop in local craft shops, pass the smallest mosque in the UAE and beyond.
Ladies Night!
Sorry guys, this one's for the ladies among us. The UAE is famous for offering ladies nights at many of its clubs and bars throughout the week, allowing women to indulge in discounted and free drinks – WIN!