When it comes to Arabian cuisine, you can expect flavour-packed dishes of varied international influences – with everything from Indian to Italian. Delicacies from almost every nation can be found on the menu here, and with so much choice, it's difficult to select a favourite.
Luckily, you won't have to – we've highlighted our insider's guide to the best restaurants in Dubai so you can eat your way around this spectacular city.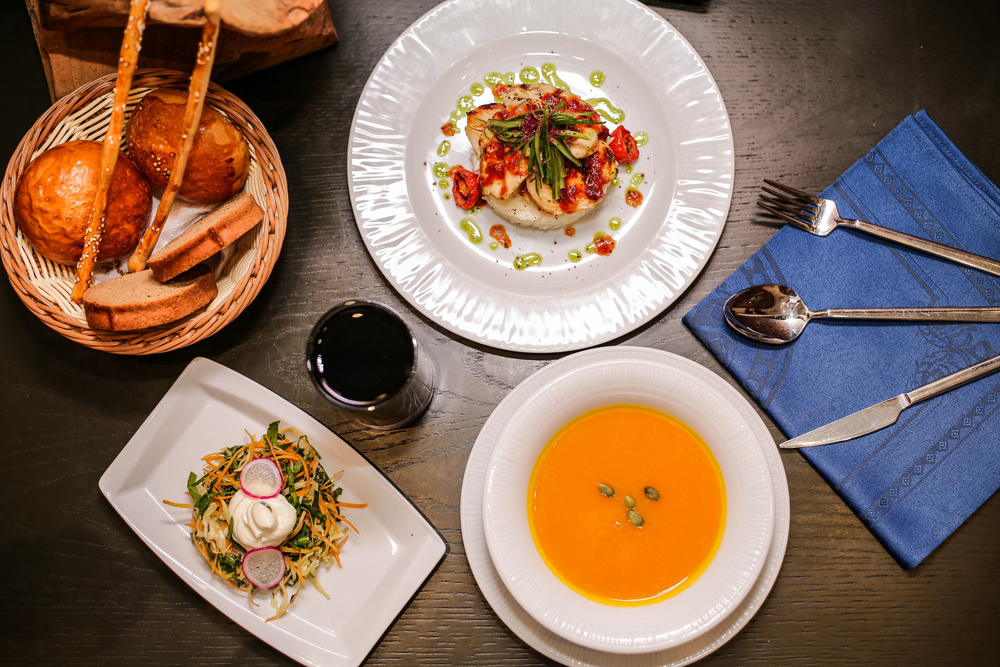 1. Rhodes Twenty10
Steakhouse (Le Royal Meridien Beach Resort & Spa)
Headed up by the late Michelin-starred chef Gary Rhodes, this glamorous steakhouse restaurant serves euro-inspired cuisine with a dash of Middle Eastern flavour. The restaurant's opulent interiors and sleek surroundings provide an intimate culinary experience you'll be hard-pushed to forget.
A highlight: The restaurant emphasises on its tasty sharing plates.
2. Indego by Vineet
Indian (Grosvenor House Dubai)
Outstanding Indian cuisine served is in a relaxed atmosphere at Indefo by Vineet. Headed up by Michelin-starred chef Vineet Bhatia, the menu is thoughtful, delivering western fusion concepts whilst maintaining authentic Indian roots. 
A highlight: You can get a great deal here if you stay half board at Le Royal Meridien, as you can use your credits to offset most of the cost.
3. Zheng He's
Modern Chinese (Madinat Jumeirah)
The focus at Zheng He's is the fusion of old and new – whether it be the Old Arabian style dockside setting contrasting views of the Burj Al Arab, or the exotic dishes that blend contemporary Western presentation with ancient Chinese flavours.
A highlight: Eating delicious dim sum with waterside views.
4. Zuma
Japanese (Ritz Carlton DIFC)
Dubai's best Japanese restaurant located in the heart of the financial district is the perfect place for an extra special meal. This opulent restaurant oozes style and serves up excellent, expensive, contemporary cuisine including miso-marinated cod, roasted lobster, sushi, and sashimi – usually accompanied by sake.
A highlight: The stylish bar is a focal point.
5. Mekong
Asian (Anantara The Palm Jumeirah)
Set amid five-star surroundings, this Asian restaurant located in Anantara The Palm Dubai Resort has a phenomenal menu that bursts with flavour. The décor is simply beautiful, with dimly lit interiors featuring colourful abstract wallpaper, vibrant murals, lattice wooden panels and dark shiny floors – plus there's an outdoor dining area, too. Expect a fusion of tantalising dishes from Thailand, China, Vietnam and Cambodia, with popular plates including Beijing half-roasted duck, handmade dim sum, Mongolian Beef, and more.
A highlight: The tables on the terrace have rickshaw's for seats, a quirky touch we're here for!
6. Pierchic
Seafood – Jumeirah Al Qasr (Madinat Jumeirah)
Positioned overlooking the twinkling waters, this restaurant is renowned for its excellent Mediterranean style seafood. Almost as good as the flavours, are the front-row views of the spectacular Burj Al Arab and the Arabian Gulf. This multi-award winning venue won the Time Out Award for Most Romantic Restaurant in Dubai, so get ready to swoon!
Be sure you book well in advance though; the tables here are in high demand.
A highlight: The restaurant's dreamy over-the-water dining experience.