This beautiful island off the coast of mainland Spain has coral white coastlines, mountain villages and exciting cities to offer, making it a popular getaway for those after a taste of it all.
With a balmy year-round climate to match, this short-haul jewel in the Med will fool any sun-seeker into thinking they've just touched down in the Caribbean.
Here's how to make the most of your time on Majorca holidays…
Where To Stay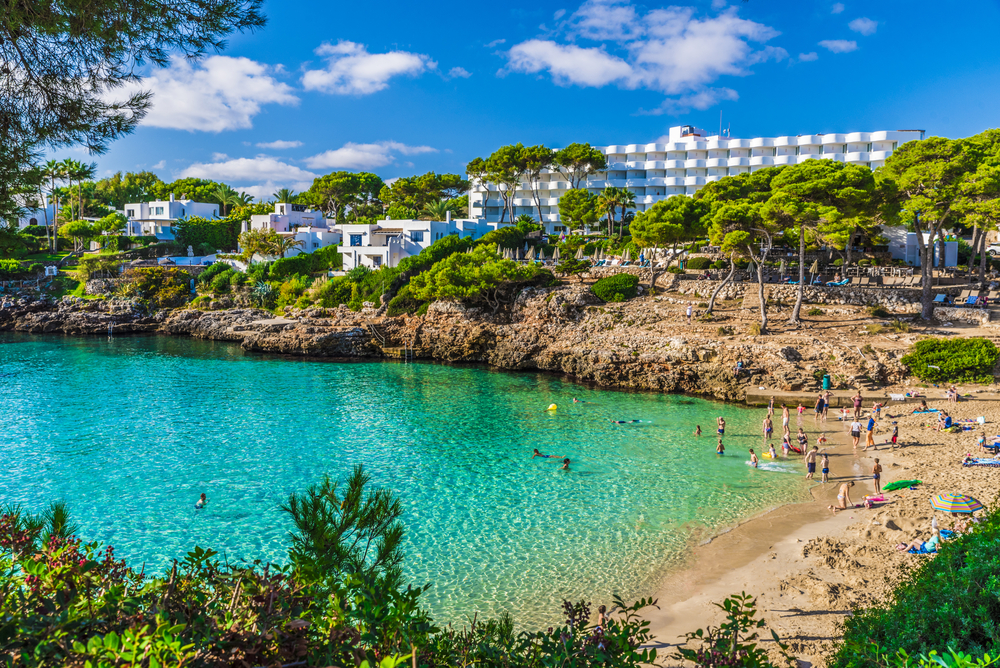 Majorca boasts a wide variety of resorts that are suitable to every type of sun-seeker, whether you're travelling with family, as a couple or you're seeking a lively escape with your friends.
Cala Millor, Alcudia, Cala Bona and Cala D'or are firm family favourites, with wonderful Blue Flag beaches and plenty of activities guaranteed to keep all ages entertained. While the island's lively resorts in the south are ideal for those after a faster-pace, including the capital city of Palma, El Arenal, Palma Nova and Magaluf. Those looking for a laid-back holiday should head to the resorts of Playa de Muro, Puerto Pollensa and Ca'n Picafort, for their sleepy villages and calm seafronts.
Majorca Weather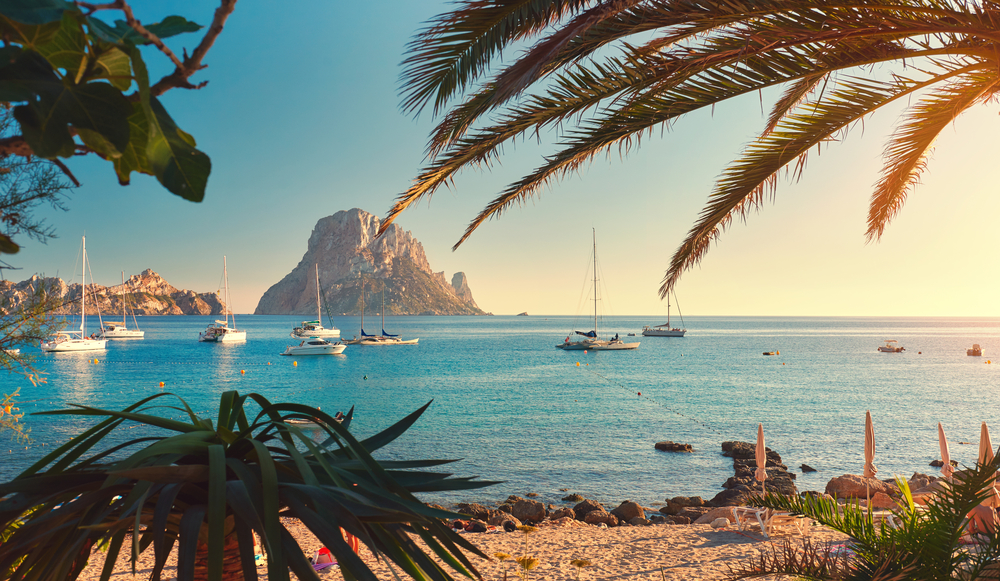 The Balearic Islands boast a Mediterranean climate with pleasant temperatures all-year-round, so visitors can expect toasty temperatures and clear blue skies in the summer months and cool, pleasant sea breezes in the winter – perfect if you want to escape the drizzly winter weather in the UK.
The temperature generally stays the same across the island, however, the southeast regions (including Palma and El Arenal) are often warmer than the coastal towns in the north.
Spring
If you visit Majorca during the months of March – May, you'll experience invitingly warm temperatures (with highs reaching the mid-20s) and little rainfall – making it ideal for those wanting to explore the island's top sights. Not only will the weather be pleasant, but you also won't need to worry about the summer crowds, especially if you want to spend a day or two on the beach!
Summer
If you want to take advantage of the island's 300 days of sunshine, the summer months of June – September are when you should travel. Long sunny days and temperatures that reach highs of 30°C + (particularly in August), mean it's one of the best times to visit the island's beautiful beaches – as long as you don't mind sharing the sand with peak-season crowds in the larger resorts.
Autumn
Want to avoid the crowds without sacrificing the sunshine? The autumn months of September and October are ideal for holidays to Majorca, with comfortable temperatures in the mid-20s. During these shoulder months, the beaches won't be as crowded but the sea remains pleasantly warm to swim in – and, similar to the spring months, it's a great time to wander around the island's attractions by foot or bike. It's worth noting, however, that October is when Majorca experiences most of its rainfall, but this usually consists of short showers that are over as quickly as they started!
Winter
Want to escape grey skies in the UK? Who doesn't. Winter is a popular time to travel to Majorca thanks to its bright weather (with average temperatures of 15°C) and an abundance of things to see and do. Book between December – February and you'll experience fewer tourists and cheaper accommodation prices, plus from January onwards you'll get a chance to see the island's flourishing blossom trees – a postcard-perfect sight!
Things To Do In Majorca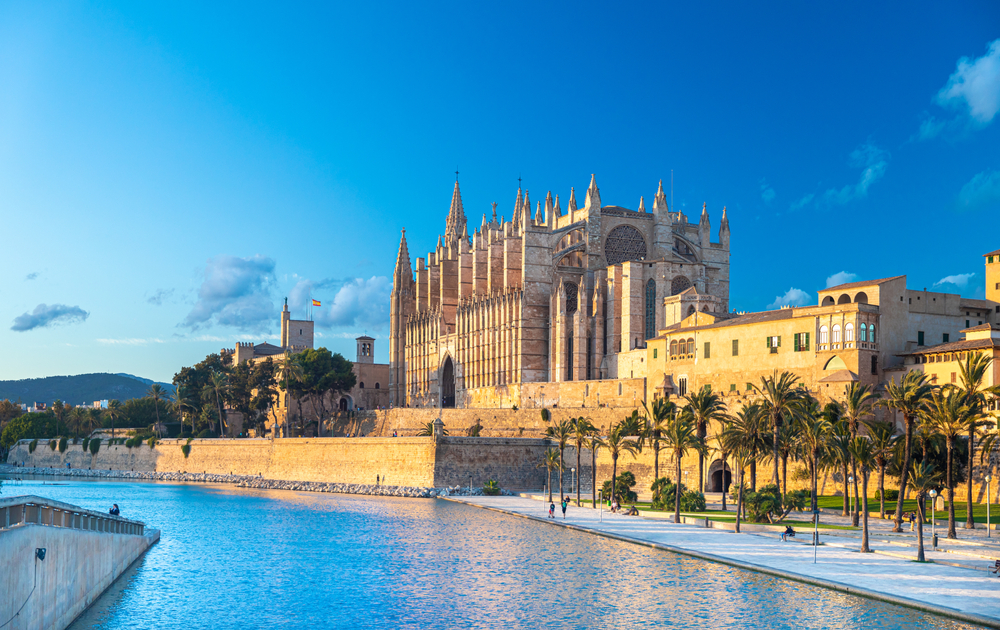 Majorca has sights, scenery, tours and attractions in abundance, with something suitable to see and do for everybody that visits the island. Whether you want to tick-off the top sights or discover untapped gems, we've listed a few activities worth adding to your itinerary.
Bucket-list Sights
There are a few notable landmarks on Majorca that are worth ticking-off if you can, depending on where you're staying.
Alcudia Old Town – the narrow cobbles of this enchanting walled city in north Majorca are brimming with ancient-old buildings, beautifully restored churches, bustling markets and delectable eateries.
The Cathederal of Santa Maria – also known as La Seu, this Gothic Roman Catholic cathedral is an archaeological wonder in the heart of Palma city. Crowned as one of Majorca's best-known landmarks, this fascinating building is a must-visit.
Port of Sóller – hop on board the famous Sóller Train and you'll trundle through spectacular countryside scenery towards the old town. While you're here, head to the picturesque port marina where you'll admire turquoise waters where bobbing yachts are moored, plus waterfront shops, restaurants, and bars.
La Reserva Nature Park – nature lovers must visit this beautiful reserve nestled amid the Tramuntana Mountains for it's mountainous views, scenic waterfalls, animal sanctuary and wonderful wildlife.
Drach Caves – also known as Cuevas del Drach, these mystical underground caves on the east coast of Majorca, in Porto Cristo, are a hot spot for adventurers. Reaching 25m below ground level, the caves feature hundreds of stalactites that hang over the underground Lake Martel – one of the largest underground lakes in the world. Atmospheric lighting makes this attraction even more dramatic, so be sure to book yourself a tour.
Hidden Gems
In addition to its famous beaches and cities, there's a whole other side to this sun-baked isle just waiting to be discovered. We'll let you in on four of our favourite hidden gems to visit while you're here.
Es Canyaret Beach – this natural spot 3km from Deia is totally worth the rocky woodland walk you'll have to endure before reaching its sands. The beautiful bay is secluded, with a backdrop of large rocks you can sit on and admire the sea views. Plus, it's famous nutrient-rich mud pools are popular for dipping in, before washing off in the crystal-clear sea. 
Valdemossa – this olde-worlde village is nestled in a dramatic mountain valley with sandy blonde buildings (including a Carthusian monastery), hiking trails, and a bulk of restaurants and shops lining its narrow paved streets.
Cala Figuera village – this unspoilt village in the southeast of the island is sprinkled with idyllic cottages, a traditional fishing port, rocky outcrops and lush vegetation – offering a taste of authentic Majorca.
Banyalbufar – a captivating coastal village on the western coast of Majorca that remains unspoiled. Its terraced hillside buildings include a handful of cafes and the Torre del Verger watchtower, which offers unparalleled views. There are also a couple of pretty pebbled beaches nearby to wander along.
 Ariany Town – this lesser-known rural town in north Majorca has rich agricultural roots, offering visitors a different perspective of the island. Here you'll find farms, windmills and historic sites including the De la crew viewpoint and a quaint parish church. A perfect off-the-beaten-track destination.
Foodie Hangouts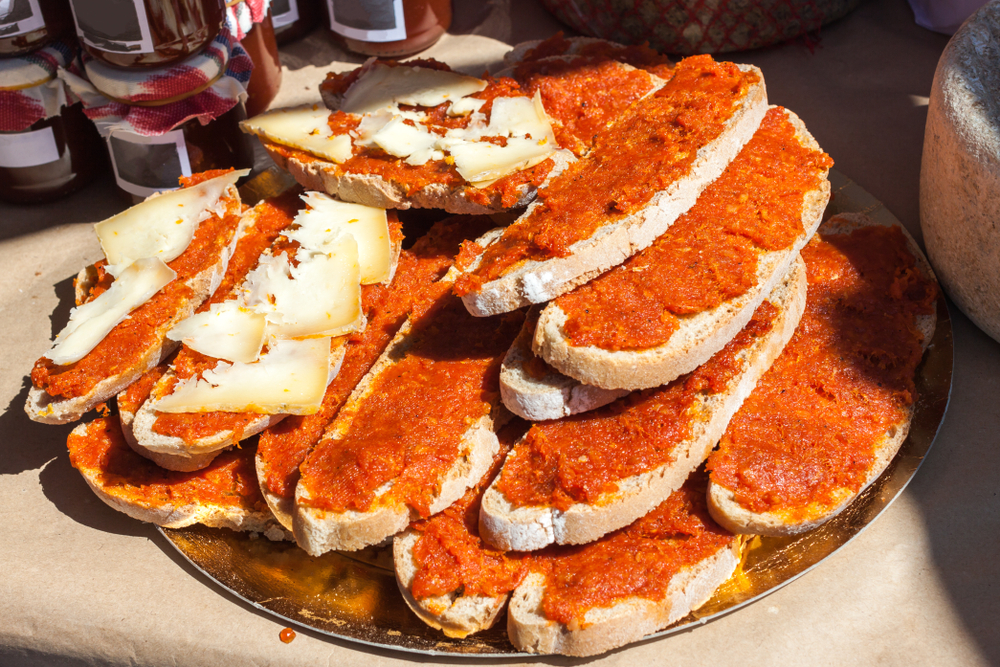 Sampling the mouth-watering local cuisine is a must while you're visiting Majorca. Whether you want a taste of tradition or to seek out the top cosmopolitan dining spots – you're in for a foodie treat.
Traditional Dishes
Tumbet – this famous vegetable dish is typical to Majorca. Similar to ratatouille, Tumbet consists of a combination of potatoes, aubergines, and roasted red bell peppers – delicious as a side dish to fish or meat, or simply on its own.
Sobrasada – this soft and spicy sausage is often spread on crispy bread and served as a hearty snack with a drizzle of honey on top! Need we say more…
Coca de trampó – this on-the-go bite is what you can expect to find cooking at any street food stall in Majorca. Similar to a pizza, a crispy Majorcan flatbread is topped with peppers, onions, and tomatoes before baking in the oven for 10 minutes – an easy dish to enjoy any time of day.
Ensaïmada – this sugar-dusted croissant is utter heaven for sweet-tooths and has been the island's signature pastry since the 17th century. Pair this flaky bake with a coffee and start your morning the Majorcan way.
Caldereta – this popular dish is a sure bet if you're a fan of seafood. It's typically served as a warming bowl of lobster or seafood stew, sautéed in garlic, onion and butter. You'll also find it available to eat with goat meat, beef and chicken.
Where To Eat In Majorca
Tast – this authentic, tucked-away tapas bar in the heart of bustling Palma is the best place to sample the city's pintxos. In fact, it's so good, there are actually two venues to dine in – one in the Old Town and one just outside. Expect classic dishes such as cod a la luna, beef stroganoff, ceviche, deep-fried camembert and more.
Es Coll d'Os – this sophisticated yet rustic restaurant in Cala Ratjada makes for a romantic affair, located in a pretty terraced courtyard that's ideal for al-fresco nights. With a menu packed with quality meat and fish dishes, Es Coll d'Os serves up delicious fare accompanied by the subtle sounds of jazz music.
Clivia – situated in Pollensa Old Town, Clivia is a family-run restaurant serving up some of the best seafood dishes on the island. Located in a centuries-old townhouse, this charming foodie spot is a hit for families and dishes up favourites such as sea bass, Soller prawns and paella, alongside equally tasty meat dishes.
Ponderosa Beach Club Bar – this trendy beach bar located on the Playa de Muro, next to Alcudia, is a hot spot for its excellent cuisine and coastal views. With fantastic food (paella being popular on the menu), tropical cocktails, plus music artists and DJs playing host on the weekends – it's the place to be if you're looking for a lively evening.
Ca's Patro March – appearing in the internationally acclaimed mini-series 'The Night Manager' for its breath-taking views, this waterfront restaurant perched on the craggy cliff edge of Cala Deia is a must for five-star fare. Specialising in fresh fish and grilled seafood platters, this spectacular venue is certainly worth the boat ride!