Antiguans are big foodies and you'll be hard-pushed to wander a street that isn't flooded with aromas of exotic fruits, sizzling seafood and barbecued corn on the cob. Seafood gets top billing on many menus across the island, as you'd expect given its dreamy location between the Caribbean and Atlantic Seas. Common catches include lobster, conch and Mahi Mahi – all served with delicious creole sauce.
If you're more of a landlubber when it comes to food, don't fret – whether you're hankering for Caribbean, French, Asian fusion, Italian or American cuisine, this destination has something to satiate even the most discerning diner.
Many of the island's finest restaurants are located within the hotels, although they're usually open to the public, even if you're not staying there. It's well worth the effort to get out and explore the best restaurants in Antigua, too. Many of them have noteworthy features that add to the experience – be it a spectacular sunset view, an Aladdin's Cave of a wine cellar, or simply outstanding service.
So without further ado, lets take a foodie tour of some of Antigua's best restaurants…
---
Curtain Bluff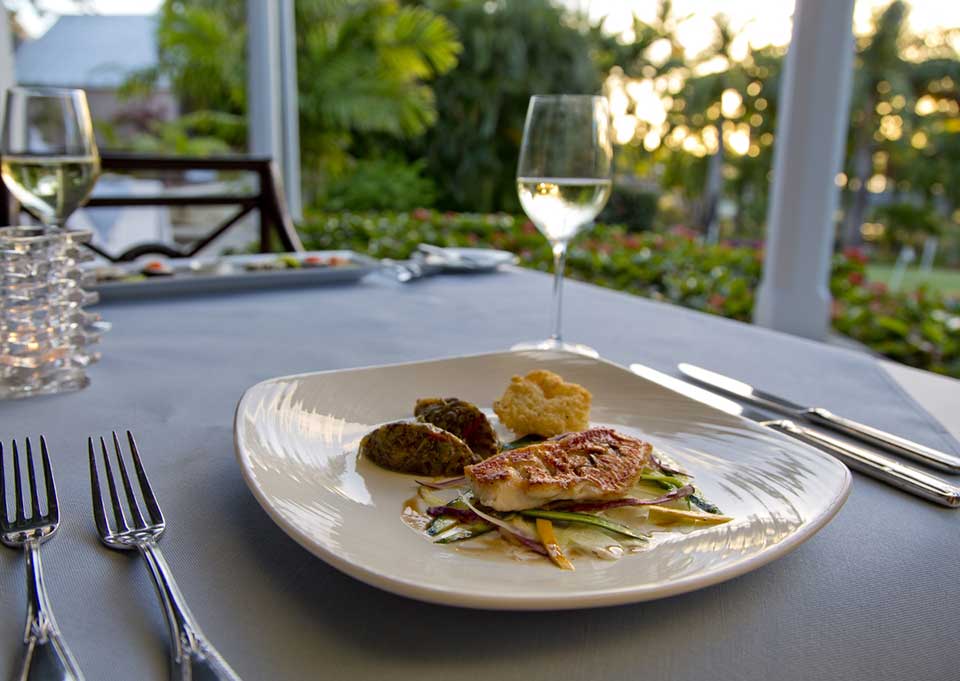 The superb food at The Tamarind Tree at Curtain Bluff isn't the only highlight. There's live music every night and a wine cellar with a 25,000-bottle collection – considered one of the best in the Caribbean. The sunset views make for a pretty special backdrop, also. The restaurant has a five-course menu that changes daily and showcases the best of the talented chef's dishes, whilst the grills are particularly good, too – be it fresh fish or a flat iron steak.
---
East At Carlisle Bay
East at Carlisle Bay is a stylishly designed space offering an eclectic mix of Japanese, Thai and Indonesian food. It's got a dazzling reputation as one of the best restaurants on the island. Upon entering the large, Indonesian wooden doors, you'll be greeted with wonderful exotic aromas that waft through the air. A Pan Asian menu is ready to tantalise your taste buds, offering delights such as crispy Korean chicken, fiery Thai noodle soups and Vietnamese duck rolls. The candlelit ambiance is tranquil and intimate and the tables are well-spaced, making it a perfect setting for a romantic dinner.
The Cove Restaurant at Blue Waters Resort & Spa

The Cove Restaurant at Blue Waters sources foodie favourites from France and serves them with a Caribbean twist. The Cove has gained a reputation as one of Antigua's finest restaurants. Aside from the food, the main highlight is the gorgeous open-air setting. Perched atop a cliff, overlooking the Caribbean Sea, the view here is spectacular (especially at sunset) as you watch birds diving for fish in the surf below. Flaming torches enhance the ambience, creating a dramatic entranceway. The food itself is exceptional, with daily specials including fresh fish straight off the boat grilled to perfection. There is also an extensive wine list. The Cove is open 4 to 5 nights a week, depending on the season – and reservations are essential. Surprisingly for a restaurant of this calibre, it's included in the all-inclusive package if you stay at Blue Waters Resort & Spa.
---
Carmichael's At Sugar Ridge
Carmichael's is one of Antigua's newest restaurants, located at Sugar Ridge. The restaurant sits on top of the highest point of Sugar Ridge, overlooking Jolly Harbour Marina and the palm-fringed beaches out towards the neighbouring islands of Nevis, St Kitts and Redonda on the horizon. The sunsets from here are sensational. Once it gets dark, it's also a great spot for stargazing. The emphasis is on fresh, local produce served with Caribbean flair – think medallions of lobster and Caribbean-style bouillabaisse – delicious!
---
Sheer Rocks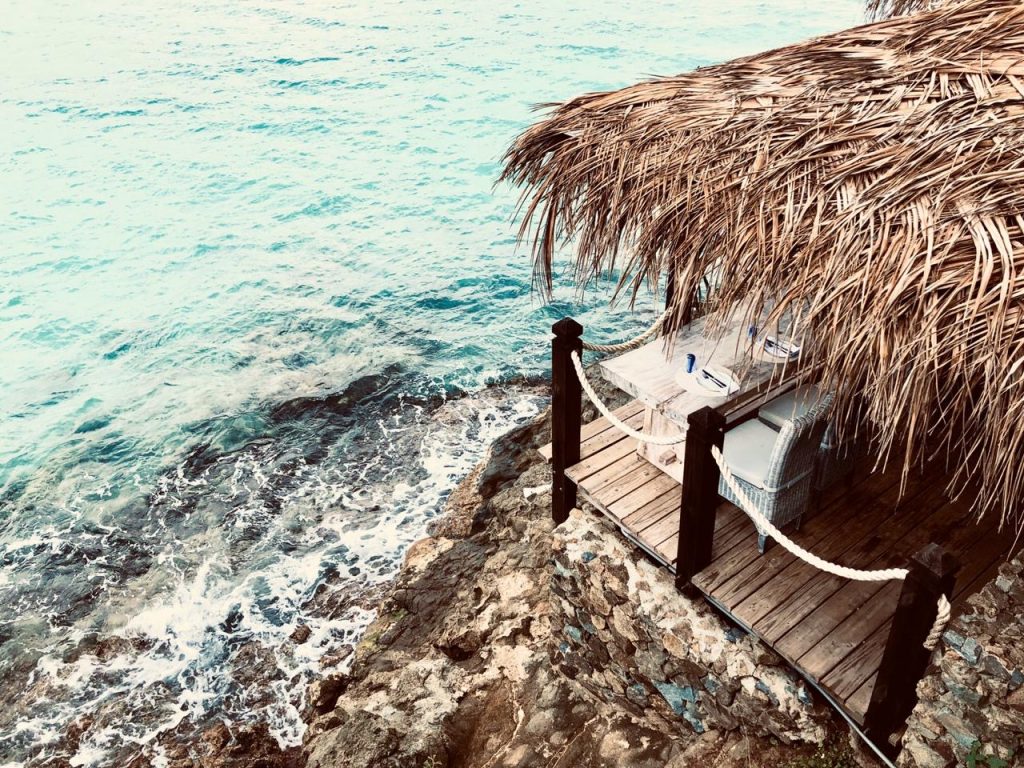 Sheer Rocks is an idyllic restaurant resting atop a rocky cliff next to Cocobay Resort. This highly instagrammable venue will have diners swooning over its shimmering sea views and flavourful food. There's a strong focus on local, fresh and organic ingredients here, showcasing the best of Antigua's fare – so you can expect to find delicious dishes including beetroot gazpacho and pan-roasted Mahi Mahi gracing the menu.
---