A holiday to the Maldives, with the soft white sands and turquoise waters taken for granted, is often considered the ultimate romantic escape.  Follow these handy hints to make your stay even more amorous and make the most of the intimate experiences on offer, whether you're on honeymoon, celebrating an anniversary or simply looking to spend some special time together…
---
#1 Stay in a Sunset Water Villa
All Sunset Water Villas in the Maldives have the wow-factor, but we particularly recommend those at Jumeirah Vittaveli. West facing, they're positioned perfectly to watch the sun disappear into the Indian Ocean at the end of the day, illuminating the sky with awe-inspiring shades of red, orange, yellow and pink. Can there be a more romantic backdrop? The house reef here is one of the best in the Maldives, so you can just dive into the water directly from your villa for world-class snorkelling (don't worry, there are steps to get back up!). As you might expect, there's a private infinity pool, and a gigantic bathtub with floor to ceiling windows overlooking the ocean. You'll also be assigned your very own 'private butler' to respond to your every whim… now that's the definition of indulgence.
#2 Experience a Maldivian Bath Ritual
For many people, there's no better way to relax at the end of the day than a long soak in a hot bath. They take that feeling to a whole new level in the Maldives. Imagine returning to the comfort of your villa after a hard day at the beach, to find your bathtub has been filled with warm water, aromatic oils and petals with candles lit everywhere. Not to mention the open air nature of the bathroom means you can watch the stars twinkle above you… bliss!
#3 Discover your inner Robinson Crusoe with a Castaway Experience on JA Manafaru's private island
Imagine a desert island, and you'll probably envisage a small sandy patch with a few token palm trees surrounded by crystal clear turquoise waters. The reality of this vision exists near to JA Manafaru. They have a seperate small private uninhabited island, where you can choose to be stranded with your loved one in complete isolation from the outside world. A unique castaway experience, staff will drop you off by boat and pick you up at sunset (or even the next morning, if you're feeling intrepid). Nestled amidst the palm trees, there is the luxury of a small hut with a bed, showers and a loo – together with a hamper containing essential supplies, and a walkie-talkie so you can radio the hotel if you want to be picked up prematurely! After a few days of being waited on hand and foot, the Castaway Experience offers a welcome change of pace.
#4 Learn a new skill together
If you've never tried it, there's no better place to learn scuba diving than the Maldives. Aside from the incredible marine life, patient instructors work with you (even if you learn at a different pace to your partner) to ensure you feel completely safe and thrilled as you discover a whole new world. It's like visiting another planet as you observe alien life forms darting between the coral forms, a memorable encounter to share together and treasure forever.
#5 Relax with a traditional Maldivian Spa Treatment together
The idyllic overwater Spa at Coco Bodu Hithi is the perfect setting. With a range of signature ritual treatments designed especially for couples, you're sure to end up in a place of 'synchronised harmony.'
#6 Go on a sunset boat cruise
Go in search of dolphins aboard a local dhoni, a traditional Maldivian boat. See the island (Kuredu Island Resort & Spa) from a different perspective and enjoy sundowners as you watch the sky fill with beautiful hues for an enviable photo opportunity that'll leave a lasting memory of your holiday in the Maldives.
#7 Enjoy an intimate candlelit meal just for the two of you, on the beach
A candlelit dinner is quintessentially romantic. Take it up a notch at the Centara Grand Island Resort, with 5 courses of indulgent cuisine accompanied by the sunset, champagne and the feeling of your toes in the soft white sands… romantic meals don't come much more special than this…
---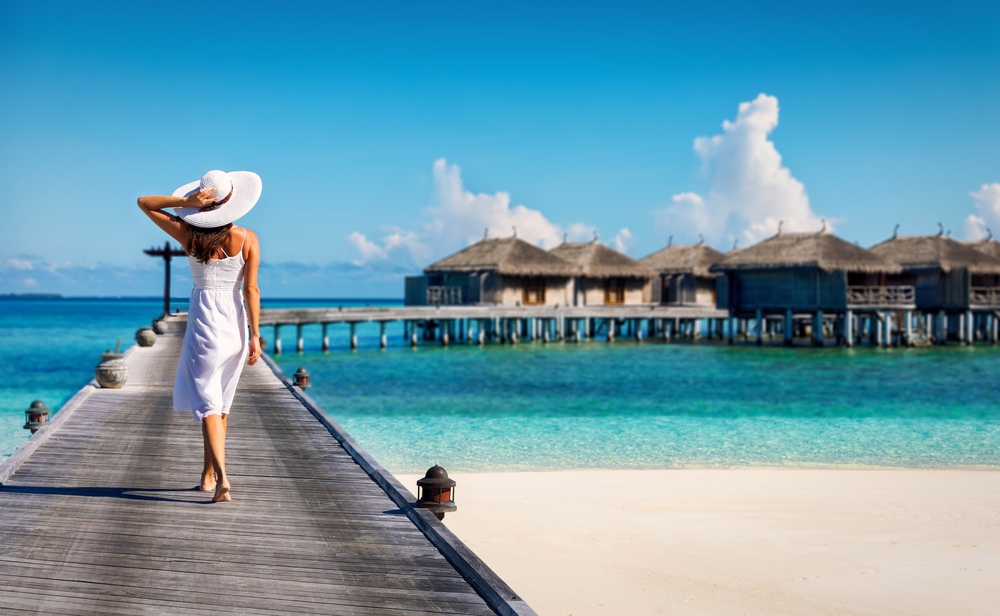 Refined Relaxation Guaranteed
Maldives are a magnet for luxury seekers, with the many plush hotels and resorts tastefully scattered over these paradise islands.
Find your perfect Maldives experience, with luxury spacious over-water villas with plunge pools, relaxing spas and refined restaurants serving the very best local and international cuisine.
Let us get your there in style, explore our range of our premium suites and villas and relax.