Eating out in the Maldives means relishing innovative dishes from across the globe at some of the finest restaurants and lounges. From authentic Maldivian to Mediterranean, Asian, Arabian and European cuisines, all can be sampled and savoured here amidst unparalleled settings.
We've chosen ten of the best Maldives restaurants for you to try next time you visit – or if you can't wait that long, simply examine the mouth-watering menus before you fly…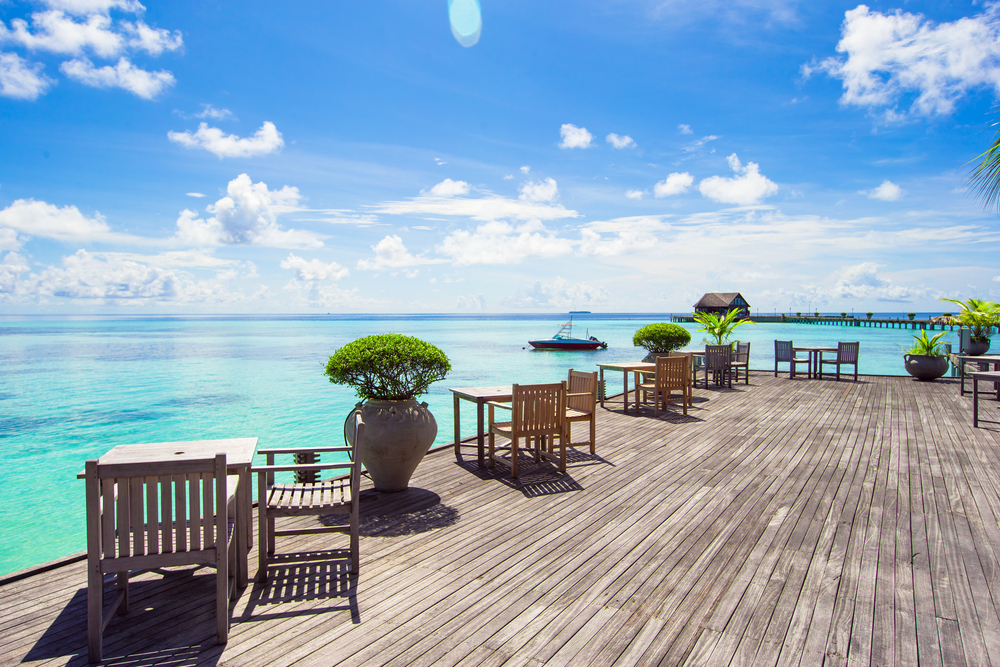 Underwater Restaurant Sea at Anantara Kihavah
Sea is the most remarkable of this four-level restaurant located at Anantara Kihavah resort in the Maldives. From an extensive menu with a Mediterranean theme at heart, to curved glass walls showcasing exotic marine life, and the finest wines available in its cellar, this flawless underwater restaurant is perfect if you wish to indulge in a comprehensive dining experience.
Tapasake at One and Only Reethi Rah
Introducing a fusion of contemporary Japanese-Peruvian cuisine paired with a choice of sake cocktails, Tapasake is recognised for serving small and stylish portions that are set to impress. With four open-air pavilions that jut out over the Indian Ocean, diners will lose themselves in an all-round culinary experience – with the restaurant's striking sushi counter centrepiece a particular highlight. Traditional Sake and the finest wines are available for you to indulge in, too.
Deep End at Taj Exotica Spa Resort
Built overlooking coral blue waters – and open to the sea in the middle – Deep End Restaurant is a fine dining venue with a warm and intimate atmosphere, that's often accompanied by the subtle sound of jazz music. Diners here will have a hard time stopping themselves from gorging on the exquisite meats, seafood and vegetarian recipes on the menu – all of which are perfectly matched with a fine wine to compliment.
RAW at Huvafen Fushi
Short for Revitalising Addictive Wellness, this unique restaurant hovers elegantly above the Huvafen Fushi's PEARL Spa, and is distinguished by its unrefined cuisines. The curated menu has an Eastern twist, with a variety of plant-based, protein-rich foods and fresh cold-pressed juices and smoothies. In the morning, this venue functions more as a juice bar, but as daytime transforms into evening it turns into an idyllic lounge ideal for smart dinner.
Fresh in the Garden at Soneva Fushi
Overlooking the tropical banana trees, organic herbs and vegetable gardens adjacent to the effervescent sea, the restaurant features an open kitchen where chefs try out various cooking recipes for carbon credits. Another fascinating part of this restaurant is its authentic Maldivian menu, which changes every night. Options range from mouth-watering appetisers to mains – both the grilled chicken breast and giant prawn preparations are truly awesome here.
Ithaa Undersea Restaurant at Conrad
Considered to be the first of its kind all over the world for its undersea glass structure, this restaurant surpasses all expectations. Set five metres below the surface of the ocean, Ithaa serves up sensational dishes with set lunch and dinner options amid panoramic coral garden views. The venue's sophisticated menu includes Seared Scallops, Duck Rillettes, Lobster Abado, Wagu Beef and more.
Baraabaru at Four Seasons Kuda Huraa
Nestled in a dramatic Kerala-inspired pavilion overlooking the moonlit waters, Baraabaru is one of the best Indian restaurants in the world. The interior is elegant and bright, with an open kitchen that allows guests to watch the chefs at work. The award-winning venue serves up authentic home-style recipes using fresh local ingredients and raw organic spices, specialising in seafood dishes and rice biryanis.  
Al Barakat at Four Seasons Landaa Giraavaru
On the waterfront, this venue offers the best in authentic Arabian cuisine. With stylish indoor and outdoor seating, this high-end restaurant serves up delicious mezes featuring the exotic flavours of Morocco, Lebanon and Armenia. From the fantastic fare to the overall atmosphere, Al Barakat guarantees a memorable dining experience.
FISH at W resort
Set in the five-star W Hotel, FISH is an elegant restaurant positioned on the water and beneath the stars. The set up here is simply beautiful, with smart tables strategically places on light wooden decking, plus a lounge area with beanbag chairs and tables that overlook the twinkling Indian Ocean. The venue has a strong focus on fresh local ingredients and presents a variety of delectable dishes with an Asian twist – sushi and sashimi are menu favourites. A truly romantic spot to dine at while you're in the Maldives.
UFAA restaurant at Cocoa Island
Set on a small and intimate island, UFAA Restaurant Cocoa Island is an excellent a la carte venue featuring Maldivian, Indian and Mediterranean influences. Its well-crafted menu consists of fresh, locally caught seafood and organic vegetables, ideal for those who enjoy eating healthily.