This exclusive honeymoon location sprinkled across 1,000+ coral islands is a bucket-list destination for couples, thanks to its sugar-white sands, luxurious overwater bungalows and handful of first-class restaurants.
The Maldives is now easing lockdown and preparing to open its borders to the new normal, which in turn, requires stringent precautionary measures to be enforced across the island. This costly holiday isle relies heavily on tourism, which accounts for one-third of the destination's national revenue – but with plans for successful post-pandemic tourism already underway, the palm-studded island is ready to welcome sun-seekers back for an exotic Indian Ocean holiday in 2020.
Current Situation
After cancelling tourist visas for the first time in 47 years (when tourism first opened in the Maldives) back in March, Maldives has introduced a strong set of guidelines to kick-start tourism on the island, with relevant changes to its booking system, visa procedures, airport arrival and accommodations.
International health insurance and a prior confirmed booking in one registered tourist facility is now required when travelling to the Maldives, which is also a prerequisite for the tourist visa. Upon issuance of a tourist visa, visitors must also provide emergency contact information. Tourist visa extensions will be made available to long stay tourists, or those that may require an extension due to quarantine measures.
At the airport, visitors must undergo temperature checks and screening measures, with those exhibiting COVID-19 symptoms required (alongside their immediate travel party) to take a PCR test. The individual, or the tourist facility that the individual is booked to stay in, must cover the cost for this test – however, any randomised PCR tests issued by the Health Authorities will be paid for by the government. If a test result is positive, the tourist facility has the option to allow the tourist to isolate in their designated room, or in a government-run facility – bearing any costs that may occur. Tourists are also encouraged to install the island's contact app 'TraceEkee' to help track and trace efforts.
Maldives is not yet exempt from quarantine, therefore it is currently mandatory to quarantine for at least 14 days upon arrival and upon returning to the UK, also. We are monitoring the latest government information on travel to the Maldives, with regards to exactly when quarantine restrictions will be lifted.
Precautionary measures must be followed while in the Maldives and current restrictions on the islands mean that all excursion activities such as day trips, fishing, boat tours, safaris, etc, are banned until further notice. However, public spaces including the glistening coral-white beaches are open with safety measures in place. So you can still indulge in an away-from-it-all holiday in this tropical destination.
Further information about what to expect when travelling to the Maldives can be found on the Government of Maldives website.
Travel To Male
A Public Health Emergency is currently in place in the Maldives capital of Male until 7th August. This includes, but is not limited to, a curfew across the Greater Male area from 23:00 to 05:00 local time. If you wish to travel from Male to other islands, there is a mandatory 14-day quarantine required upon arrival.
Flying To Maldives?
Commercial flights are now operating to and from the Maldives with limited routes.
Hotels
Resorts and accommodations on COVID-free islands are re-opening to tourists from the 15th July, with guesthouses following suit from 1st August. Visitors will also be allowed to travel freely between the resorts and islands once in the Maldives, without the need to quarantine from the 1st August.
This tropical hot spot is eager to resume business as usual, which for visitors to the island means cocktails on the beach, dolphin boat tours, delicious dining on the sand and a host of watersports attractions – and with its new safety measures in place, the exotic isle is set to bounce back bigger and better than before in the not too distance future.
---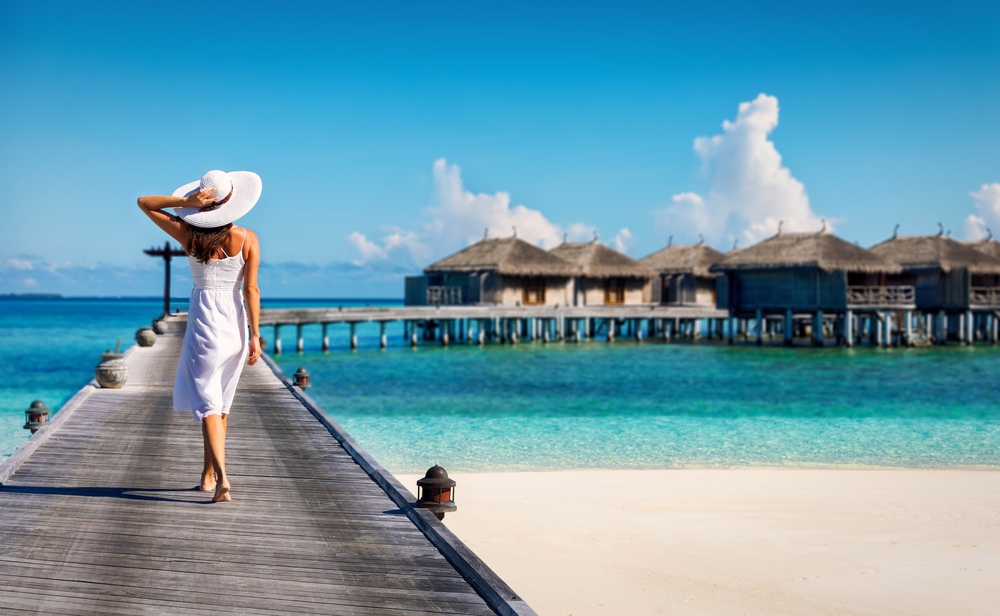 Refined Relaxation Guaranteed
Maldives are a magnet for luxury seekers, with the many plush hotels and resorts tastefully scattered over these paradise islands.
Find your perfect Maldives experience, with luxury spacious over-water villas with plunge pools, relaxing spas and refined restaurants serving the very best local and international cuisine.
Let us get your there in style, explore our range of our premium suites and villas and relax.