Crowned as the largest of the Dodecanese Islands, there's no end to the wonderful things you can see and do in Rhodes. From medieval-walled squares to scenic vineyards and paradise beaches, this island destination serves up an effortless blend of old meets new.
Thanks to its diversity, deciding what to tick off first can be tricky. But since we've done the hard work for you, all you have to do is show up! Seems fair. It's time to take a look at our exclusive travel guide to the best things to do in Rhodes…
Rhodes Old Town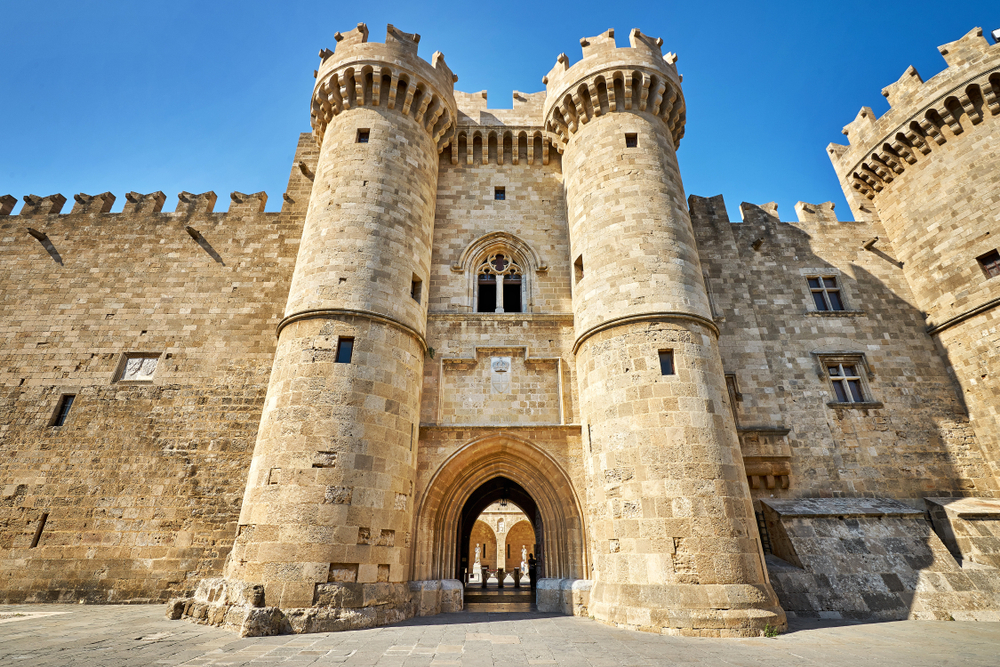 The easiest place to start has to be Rhodes Old Town. Crowned as a UNESCO World Heritage Site since 1988, once you step foot inside its medieval walls you'll feel like you've traveled back in time. Follow a labyrinth of cobbled streets through the Old Town and you'll soon learn of its rich history, passing wonderfully preserved Byzantine architecture as you go.
A must-visit while you're here is the famous Street of the Knights. Arguably the beating heart of the Old Town, this street boasts an impressive line-up of ancient Gothic and Ottoman architecture including the Palace of the Grand Master – a 14th century castle that looks as though it belongs in a fairytale – the Our Lady of the Castle Church, an Archaeological Museum, plus a host of olde-worlde buildings in between.
Nestled between the grand architecture you'll find atmospheric bars and taverns serving authentic Greek food, too.
Where To Eat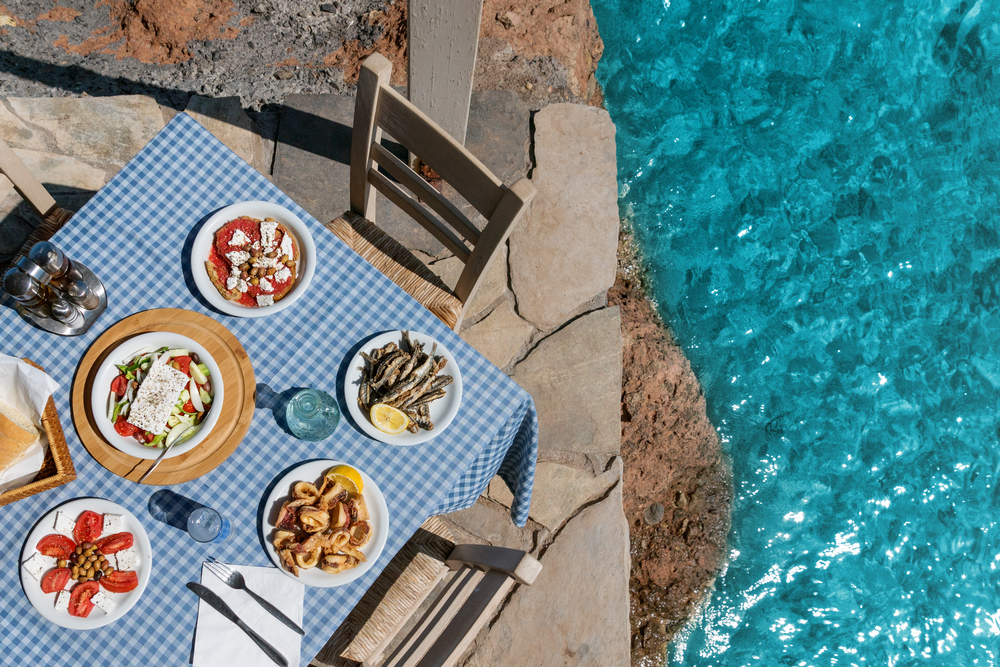 Whether you want to wine and dine with spectacular sea views or grab a bite in the bustling Old Town, Rhodes is inundated with fantastic places to eat. Mama Sofia Restaurant is one of the most popular in the heart of the historic capital; a few metres from the Clock Tower, you can expect friendly service, traditional cuisine and a unique wine list at this atmospheric venue.
For a change of scene, Kyma Beach Restaurant is set amid a beautiful location overlooking the gulf of Lee beach and twinkling Aegean Sea – ideal for a romantic dinner with a sunset backdrop. The excellent food here is typically Greek with dishes including Slow Skewered Lamb Kebab, Beef Stifado, Lamb Kleftiko and fresh Seafood.
Mavrikos is one of the oldest restaurants in Lindos and is still run by the same family, today. Chef Dimitris Mavrikos has earned a reputation as the most famous chef in Rhodes thanks to the delicate dishes and flavours he crafts, making this restaurant one of the must-visits in Lindos. While situated in one of the more expensive areas, the prices here are fair – and it's popularity day after day reflects that.
For something a little quirky, Arthontiko Restaurant offers a gastronomic experience to remember. Also located in Lindos, this restaurant was built in 1605 as a ship Captain's house – luckily for us, it has since been well preserved and its original charm remains. Inside its whitewashed walls, the décor is unique, with pebbled floors and cushions to sit on, making room for some interesting ornaments. The friendly owners Dimitris and Flora are more than welcoming, too.
Where To Sunbathe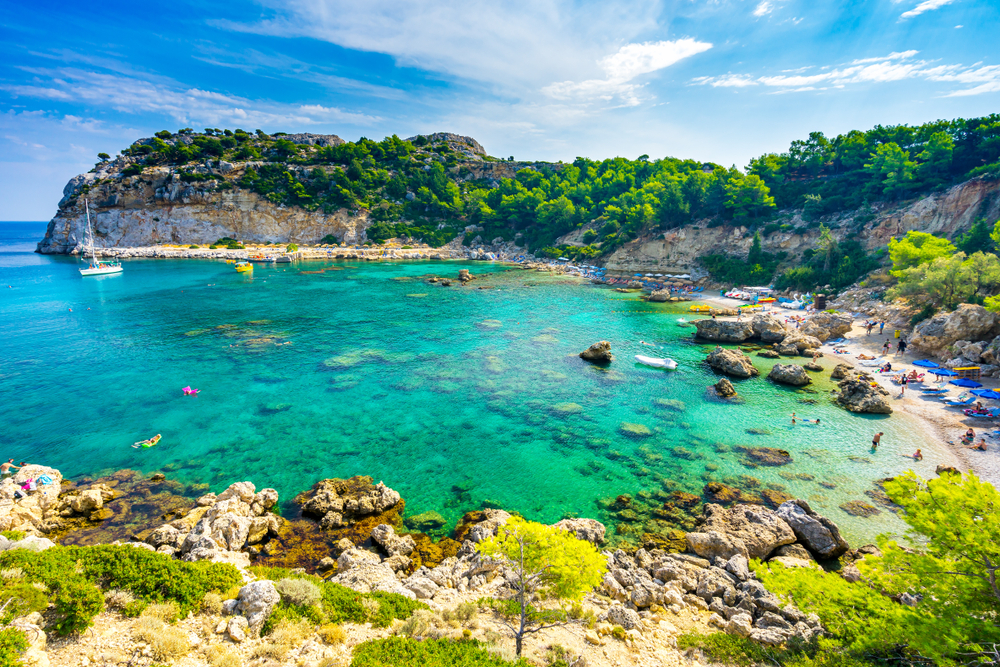 Balance soaking up the historical sites with an afternoon spent relaxing by the sea. There are heaps of beautiful beaches in Rhodes (since it's known for its popular beach resorts), with everything from tiny secluded bays to natural beauty spots and expansive sandy stretches – so you're sure to find one that suits.
St Paul's Bay is a lovely stretch popular with tourists for its scenic chapel and trendy beach bar that looks out over Lindos' Acropolis. While the lively sands of Faliraki offer a more cosmopolitan vibe, with its sugar-white stretch brimming with watersports and sun-loungers.
One of the prettiest coves on the island is Anthony Quinn Bay; close by to Faliraki, this is a perfect spot if you're seeking a slower-paced beach day, with emerald-green waters and a collection of sun-loungers fringed by lush green forestry. If you want the best of both worlds, the Blue Flag beach in Pefkos Village is always a hit thanks to its golden sands and shallow waters – perfect for little ones to swim in. Flit between the sand and the shops, bars and restaurants in the resort town.
Lovely Lindos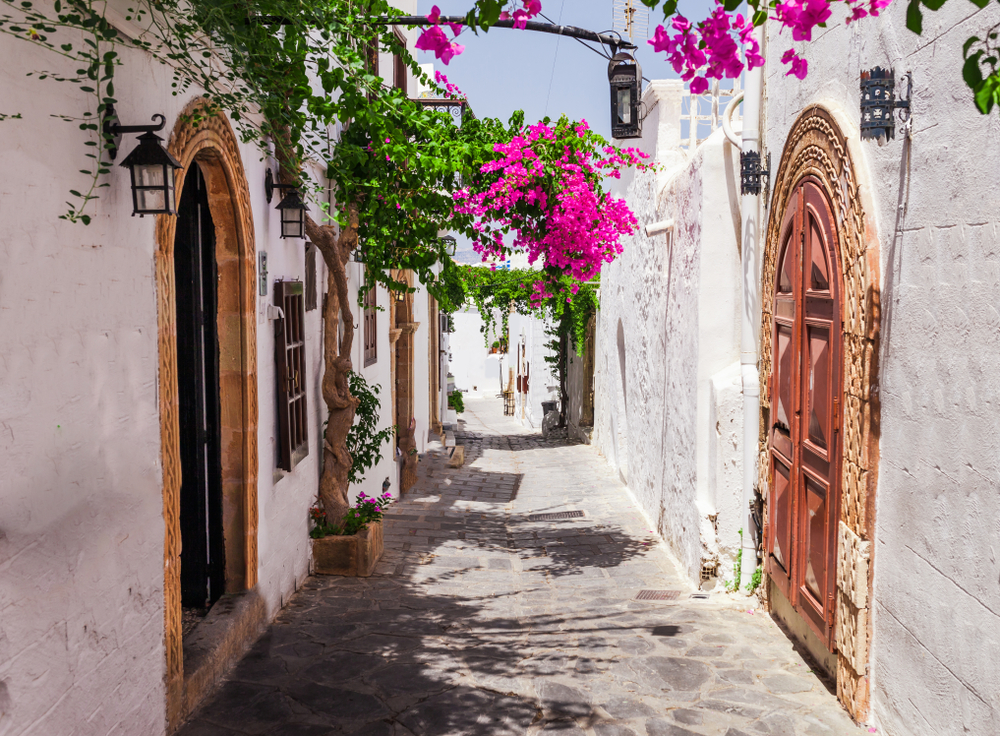 If you're in Rhodes you have to make a trip to Lindos Village. Giving Rhodes Old Town a run for its money, this whitewashed village is a maze of traditional flat-roofed houses that gently slope down from its hilltop Acropolis (perched on a 116-metre high rock) to a golden sandy beach. Hit the road that leads up to the Acropolis and you'll pass archaeological wonders along the way, and once you reach the top there's an ancient-old temple waiting for you – not to mention a beautiful birds-eye view of the village below.
When you're not exploring its ancient walls, venture down one of many winding alleyways where you can shop for traditional clothes, leather goods, local pottery and art. Better still, the shops don't shut until late, so if you've had a busy day you can browse the stalls and boutiques in the evening after dinner.
Vibrant Nightlife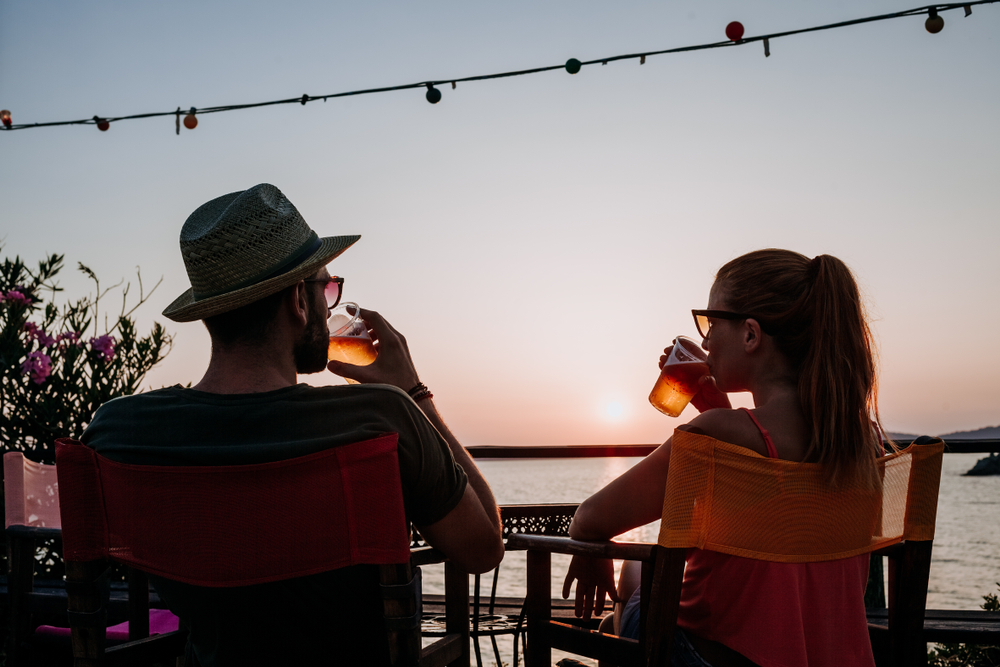 Meander this historic capital's laid-back cobbles during the day, and you'll have an entirely different experience to when you step out at night. Rhodes has a buzzing nightlife scene with over 100 clubs and bars across the island – so whether you're looking for a romantic cocktail or two by the sea or a full-on party, there is something for everyone.
Rhodes Town Harbour area offers a sophisticated vibe, with cosy cocktail bars and taverns where you can watch the boats as the sun sets. Or, for those wanting to let their hair down, Orfanidou Street (also known as Bar Street) is famous for its wild nightlife. Located near the waterfront, there's a whole host of trendy nightclubs and bars sprinkled along this street, including Colorado Club.
Faliraki is probably the most famous resort on the island for night owls, with its crazy nightlife scene appealing most to the 18-30 crowds. Bar Street and Club Street are at the heart of the party atmosphere, where you'll find a mixture of karaoke bars and late-night clubs. Although there is opportunity for a calmer evening to be had, with some lovely cocktail bars situated along Faliraki Beach.
Pretty Lindos offers a much slower pace, with chic rooftop bars and stylish cocktail lounges along the beach – perfect for an al-fresco evening with a view. Captain's House Bar and Dreams Cocktail Bar are two of the area's popular hangouts.
If you want the best of both worlds on your summer holiday, Rhodes really does have it all. Its vibrant landscapes, ancient-old cities, whitewashed villages, and spectacular beach resorts offer an eclectic blend of cultural and cosmopolitan opportunities that are fit for the whole family. So what are you waiting for?
---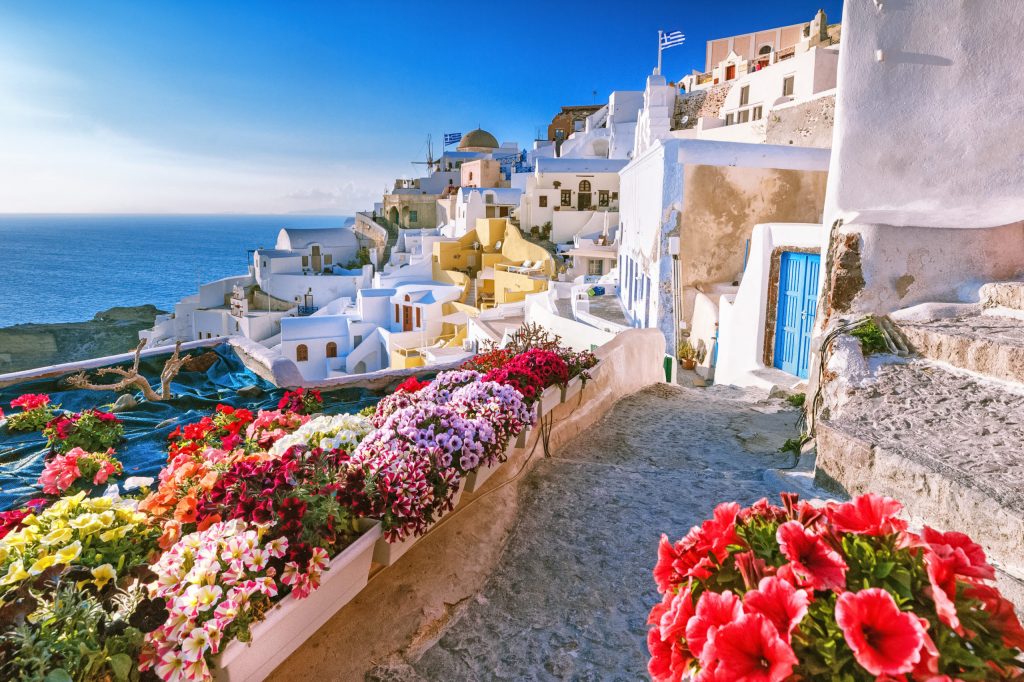 Give Greece a go
Letsgo2 have simplified bespoke premium travel and Greece is a popular choice for those looking for luxury that's a little closer to home.
Let us take you there in style, working with our partners we have crafted some wonderful deals at some of the most luxurious spots in this beautiful part of Europe.