Greece's biggest island has something for everyone, from its spectrum of beaches to its mountain scenery, pint-sized villages and historic sights – all with spectacular sunshine thrown in for good measure.
Whether you're travelling with the whole family or you've booked a romantic couples week away, Crete is a pretty special place to experience – so without further ado, lets dish out some of the best things to see and do on this Mediterranean gem.
Crete Weather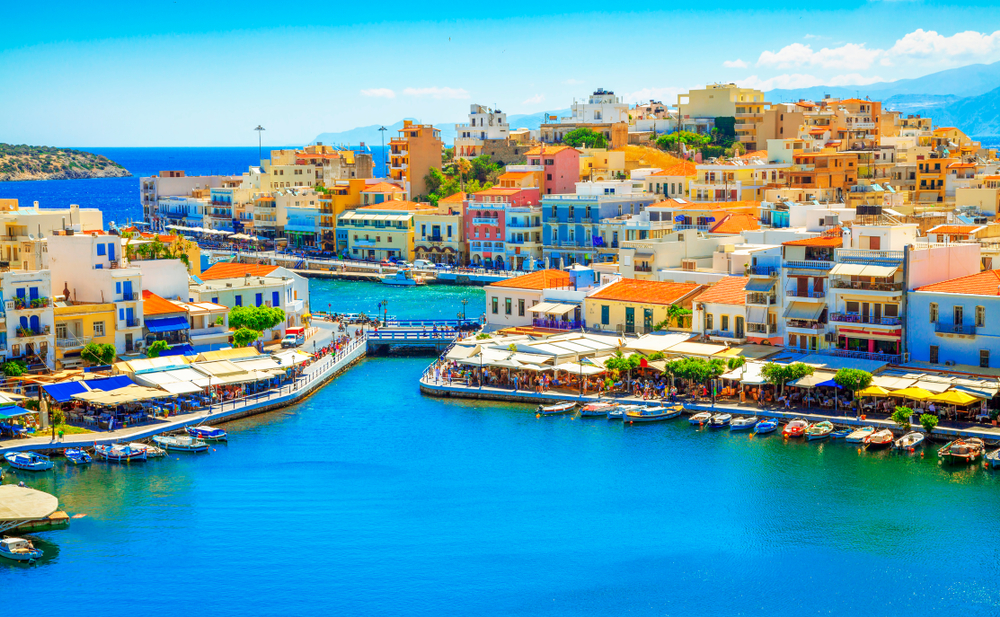 One of the island's claims to fame is having the longest summers in the Mediterranean, making it an ideal beach holiday destination for those after a top-up of Vitamin D. Crete's temperatures start to rise in April, with many tourists visiting the island between the months of April to mid-October. The best time to visit Crete is in spring, early summer, and the autumn months, when the beach-ready temperatures hover comfortably in the 20s – even in late October, if winter sun is your thing. The hottest time to visit the island is, as you can expect, during the peak summer months of July and August when temperatures hit the 30s.
Things To Do In Crete
There's a whole host of exciting things to see and do in Crete, but since the island is so vast it can be tricky to know where to start. We've covered a couple of the key tourist attractions here to help plan your itinerary.
Beaches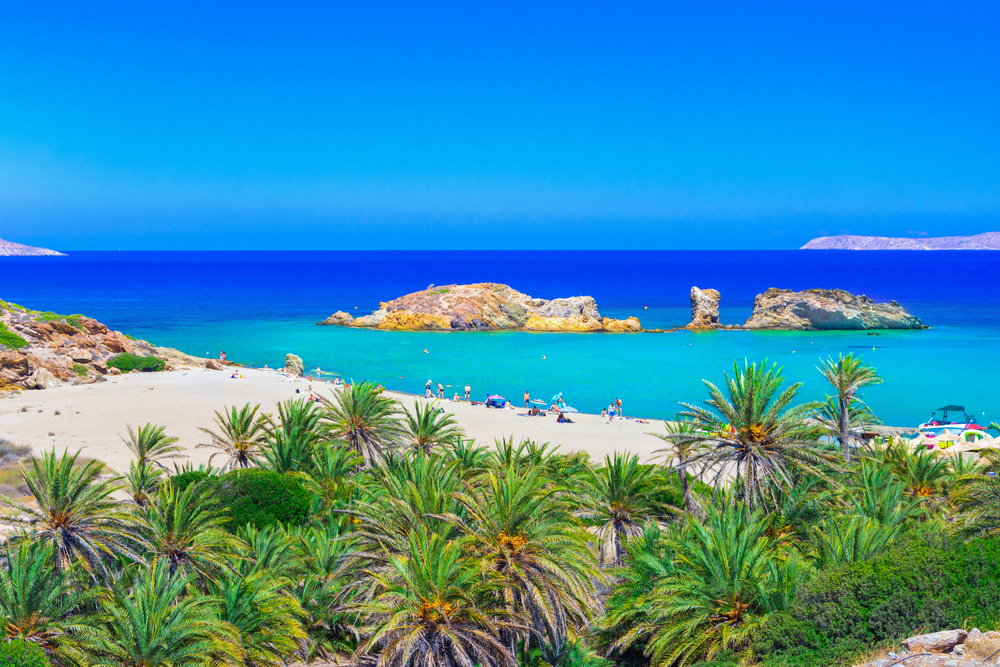 In addition to being the biggest island in Greece, Crete is also the fifth-largest island in the Mediterranean, so rest assured it has its fair share of beaches. You'll find a mixture of everything along this beautiful stretch of coastline, from expansive golden and pink-hued sands, to pebbly coves, bustling beaches with watersports and tranquil hideaways. There are hundreds of beaches worth visiting in Crete, and while we wish we could name them all (really, we do), we've had to settle for a few of our favourites…
Most Popular: Elafonissi Beach deserves the first mention for its famous pink and white sands – a stretch that you won't need to wear your rose-tinted glasses to admire.
Most Scenic: Voulisma Beach, close by to Agios Nikolaos, is a stunning, somewhat undeveloped beach with blond sands that are backed by towering cliffs and lapped by turquoise waters.
Most Unique: In eastern Crete you'll find Vai Beach, a truly spectacular stretch home to one of Europe's largest palm groves (with over 5,000 swaying trees). The long walk to the sand is totally worth it, since this beach is now one of the largest attractions in the Mediterranean.
Most Action: Falassarna Beach, in the Chania region, is a hot spot for families thanks to its coral blue waters perfect for watersports. This golden stretch is located at the foot of Cape Gramvousa, the westernmost peninsula on the north coast of Crete – nearby you'll find the Bay of Balos and its inviting lagoon.
Culture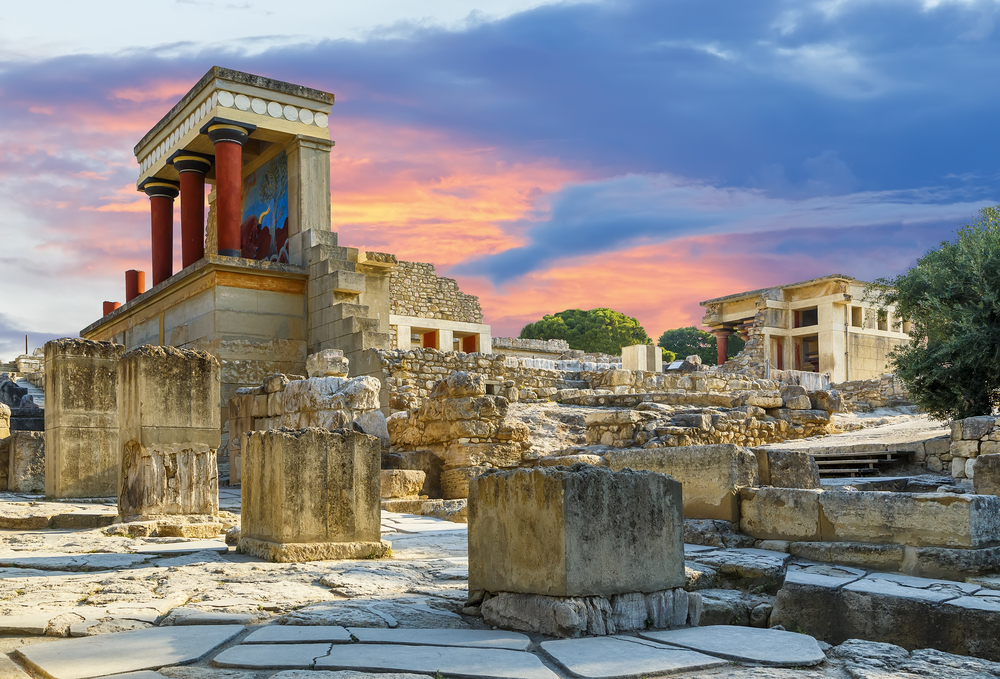 Greece is renowned for its rich history, culture, myths and legends, with many of its regions oozing with ancient-old architecture. Crete, in particular, serves up a significant proportion of sights, with over 4000 years of history to uncover across the island. If you're a history buff, we've highlighted some of the most notable landmarks worth getting your camera out for while you're here:
Palace of Knossos: The largest Bronze Age archaeological site on Crete, the Palace of Knossos, near the city of Heraklion, is a must if you're into Minoan civilisation and culture. Stretching 150,000 square feet, this grand palace was destroyed due to an earthquake in 1450BC, leaving only remnants behind.
Zeus' Tomb: Not far from the Palace of Knossos is Mount Juktas, which is believed to have been the tomb of Zeus. Venture inside and you'll discover a maze of sacred caves full of Minoan secrets worth uncovering – plus, you'll be rewarded with fantastic views of the island upon existing.
Spinalonga: This uninhabited island is arguably one of the most visited in Crete, once known for being used as a leper colony. Visit this eerie islet in the Gulf of Elounda and take a guided tour to discover its history – or simply watch one of the television series it's featured in!
Fortezza: This huge Fortezza Fort was built by the Venetians back in the 16th century in the port of Rethymno to protect the city – and its striking star-shaped formation remains a focal point on the island to this day. Located beside the Old Town, you won't miss this marvellous structure or its impressive bastions that tower over the city. Inside its walls, you'll also find a treasure trove of remnants including a church and barracks.
Eat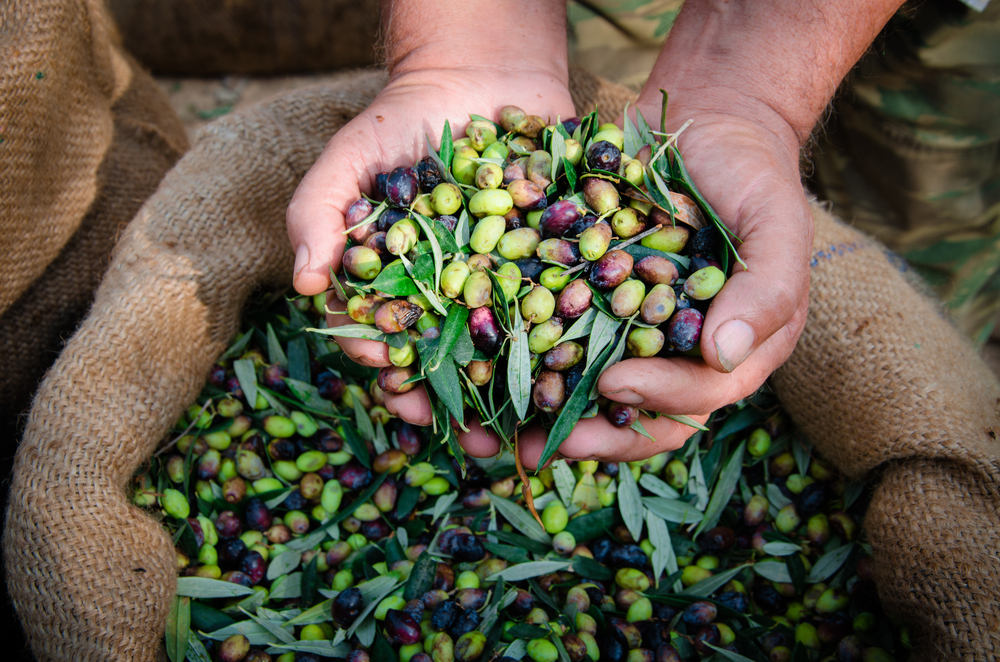 Following the famous Mediterranean diet, Cretan cuisine is among the healthiest in the world (which is hard to believe since it's so mouth-wateringly tasty) – with a wide variety of delicious dishes ready to be devoured by hungry tourists. The island's traditional ingredients and noteworthy dishes include olive oil, Cretan cheeses – usually made from sheep's milk – Sarikopitakia (cheese pie), Tzatsiki, Moussaka, Loukoumades and much more.
This super-size island has a whole host of eateries worth indulging in – a few of our favourite places to eat here include:
Herb's Garden: Located on the rooftop of Lato Boutique Hotel, Heraklion, this restaurant serves up spectacular fresh seafood with views over the glittering Venetian harbour. As indulgent as the seafood here is, be sure to save space for their homemade ice cream – it's kind of a big deal!
Ferryman Taverna: This family-run taverna on the waterfront in Elounda has been a hit with locals and tourists alike since the 70s. You can expect an intimate atmosphere in a peaceful location, with traditional Greek recipes on the menu.
Salis: This seafront jewel in Chania is a must if you're hungry for classic, well-crafted dishes. This breezy restaurant serves up impressive coastal cuisine including octopus, amberjack tartare, seared sesame tuna and more – plus a delicious selection of wines.
Manousaki's Winery: If you're a fan of the bottled stuff, this enchanting winery in the hills of Vatolakkos – a quaint village in Chania – is brimming with award-winning organic wines you can sample. Take a seat on the tree-lined terrace and taste the finest grapes, or book a tour of the wineries and vineyards.
Ntounias: You can't get much more authentic than this taverna, which is nestled on a slope in the mountains. At this family-run gem, everything you eat will be locally sourced – from the succulent slow-cooked meats to the vegetables and olive oil.
Feeling peckish? Foodies can also whet their appetite with our guide to Greece's most delicious dishes.
Where To Stay In Crete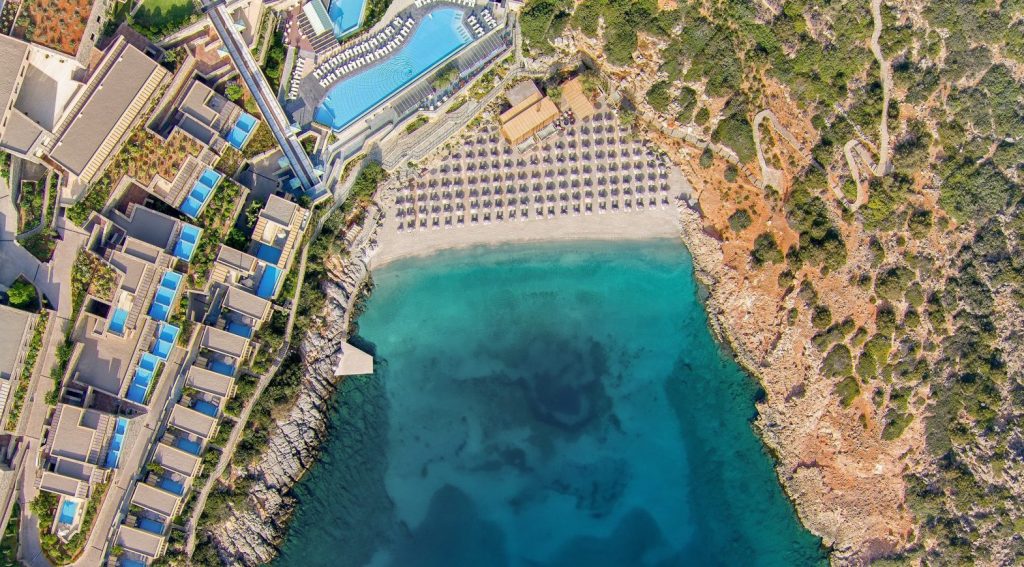 Want to stay in style during your holiday to Crete? Look no further, as we've got a selection of spectacular resorts sure to spark excitement for your luxury Greek getaway.
The Lasithi Area, on the east of the island, is home to the buzzing tourist towns of Agios Nokolaos and Elounda, complete with picturesque harbours, great shopping and a selection of bars and restaurants – plus a selection of family-friendly hotel resorts. One of the best five-star establishments in the area is Daios Cove Luxury Resort & Villas, a beautiful hillside hotel that overlooks a tranquil bay. Ideal for families and couples alike, this stunning all inclusive hotel features modern suites and villas (often with their own swimming pool and veranda), world-class dining, a state-of-the-art GOCO Spa, a kids' club and more.
The Blue Palace Resort is another five-star beachfront property nestled on the coast of Elounda. With 142 suites and bungalows available, including private swimming pools, a beautiful beach, spa facilities and a kids' club – it's a fantastic choice for families if you plan to stay in the Lasithi Area.
Lastly, Domes of Elounda is a lovely boutique hotel that overlooks the beautiful island of Spinalonga (famous for being the film set of Mama Mia!). The five-star hotel offers 80 contemporary suites, a Soma Spa Centre, a la carte restaurants and a kids' club
Equally, Rethymnon, north of the island, is a popular area for family holidays with a handful of fantastic beaches, an awe-inspiring Old Town and an impressive Venetian harbour – also a popular spot for its accommodating hotel resorts.
---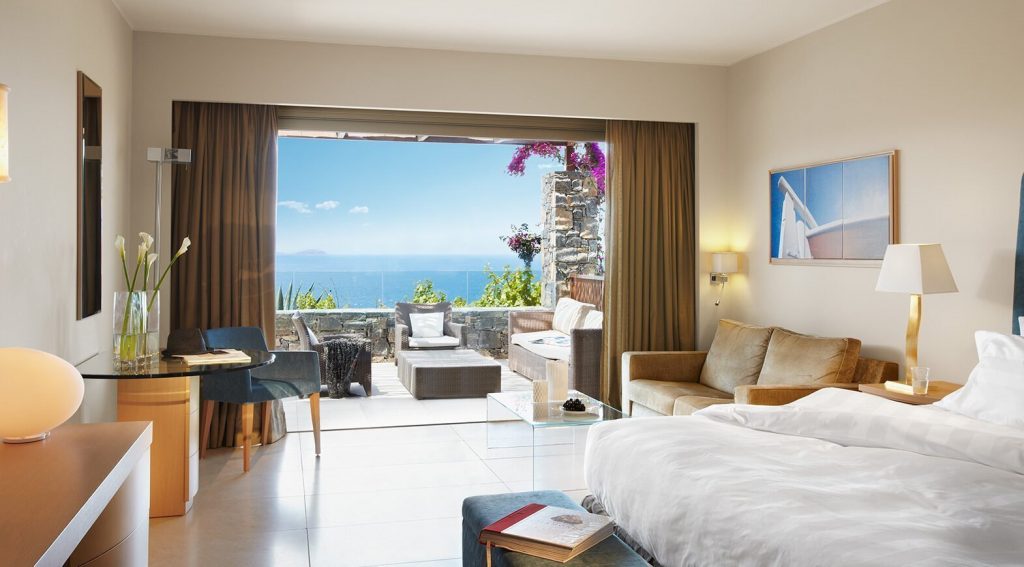 Daios luxury for less
Letsgo2 have simplified bespoke premium travel and our special relationship with this wonderful spot of luxury on the beautiful Crete coast means that you can holiday in style, for a bit less.
Click to view more about this property, see our very special offers or call us on +44 208 329 2602 to learn more.