Spain's largest Canary Island is admired for its vast blond and black-sand beaches, volcanic landscapes and vibrant festivals, making it one of the most unique places to visit in Spain. The island has a whole host of luxurious hotels and resorts to stay at – one of the most impressive being The Ritz-Carlton Abama. If you're dreaming of spectacular service, secluded sands, splash-worthy swimming pools and sumptuous dining, this five-star hotel in Tenerife has it all.
The Ritz-Carlton Abama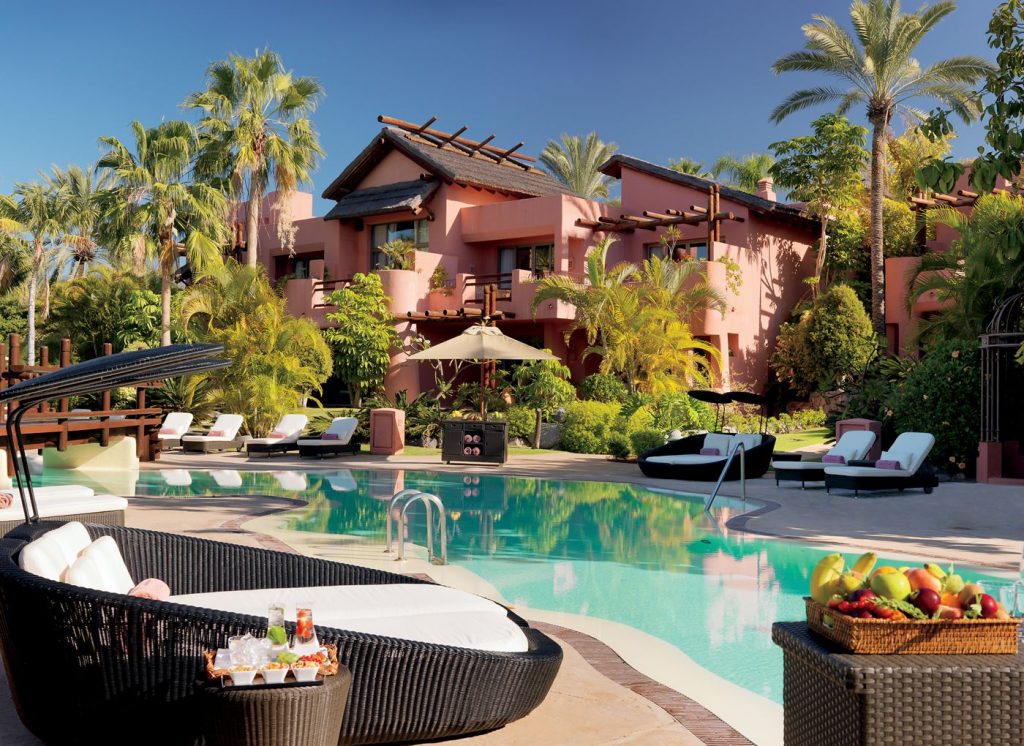 The Ritz-Carlton Abama is located on a 160-hectare estate on the south of the island in Guia De Isora, a peaceful part of the resort with an authentic Canary Island feel. This expansive Moorish style hotel is nestled in the clifftops, its dusty pink colour contrasting with its surroundings, which include an exuberant sea of verdant plants and palm trees (over 300 varieties), plus a spectacular 18-hole championship golf course – not to mention the coral-blue sea twinkling in the distance.
The sprawling resort has a host of first-class facilities, activities and amenities to offer, keeping the relaxation, wellness, indulgence and excitement of its guest's front of mind, always.
Rooms & Suites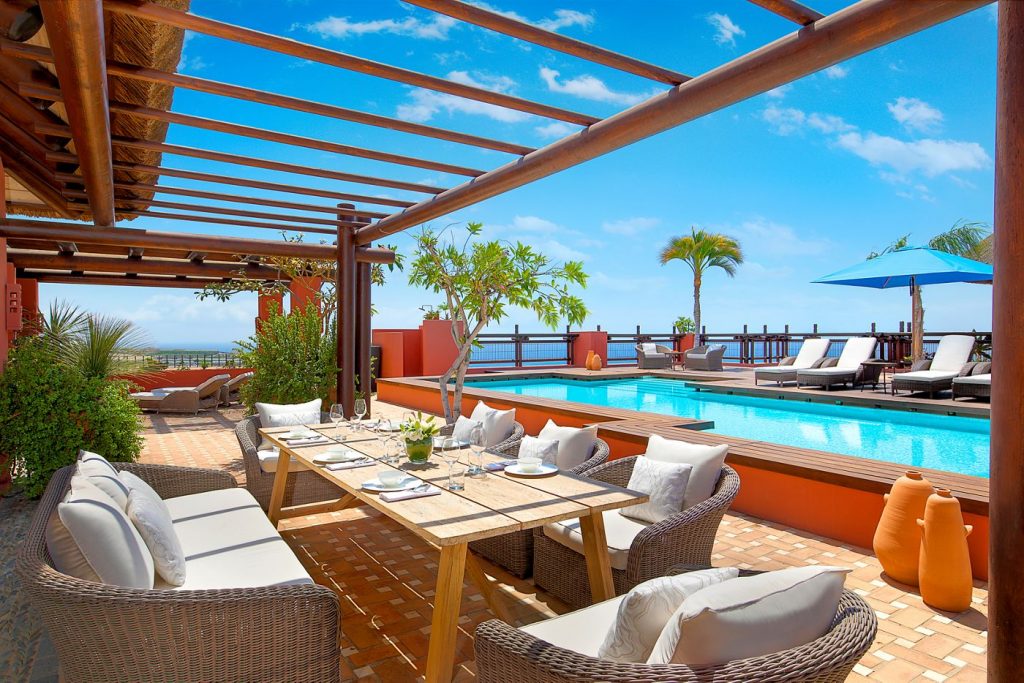 There are no less than 459 luxuriously appointed rooms and suites available at the hotel, providing a flexible choice for every type of guest. Options include VIP Suites, Adults Only, Villas and Citadel accommodation, with a variety of plush room types to discover across each category. The furnishings in the hotel rooms are neutral and fresh with contemporary furniture, marble bathrooms and a spacious balcony or terrace (available in most) – ensuring a comfortable stay for all guests.
Citadel
The Citadel is the central area of the resort, with 300 rooms that consist of One Bedroom Suites, Junior Suites and Deluxe Rooms – each offering panoramic golf, ocean and resort views. Guests will also find the Abama Plaza here, which is the hotel's serene meeting point complete with a Kop Carp Lake, waterfalls and a shopping arcade – ideal for those that want to be at the heart of the action.
Villas
The Villas are located in an exclusive setting towards the beach, offering a blissful seclusion from the main hotel. The Villas are divided into two categories, One Bedroom Suite Villas and Deluxe Room Villas, each offering views of the lush botanical gardens or the ocean. The perfect choice if you want a little extra privacy, or simply want to benefit from having a larger space to relax in.
Adults Only
Whether you're on a romantic couples holiday or you simply want to leave the kids at home for some well-deserved R&R, The Ritz-Carlton Abama offers beautifully designed adults only villas (for guests over 18 years of age), too. Guests can choose between One Bedroom Suite Tagor' Villas and Deluxe Room Tagor' Villas, each of which include a personalised in-room check in or personal Villa Ambassador Team, with the Suite featuring a private pool, too.
VIP Suites
If you want the best of the best, the hotel's VIP Suites are sure to satisfy your stay. The Imperial Suite, Royal Suite and The Ritz-Carlton Suite are all VIP options with panoramic views of the ocean. Stay at one of these three accommodations and you can expect private rooftop terraces with heated pools and Jacuzzis, botanical Japanese gardens, Suite Ambassador service and open space living areas. Celebrating a special occasion? This is a sure-fire bet.
Dining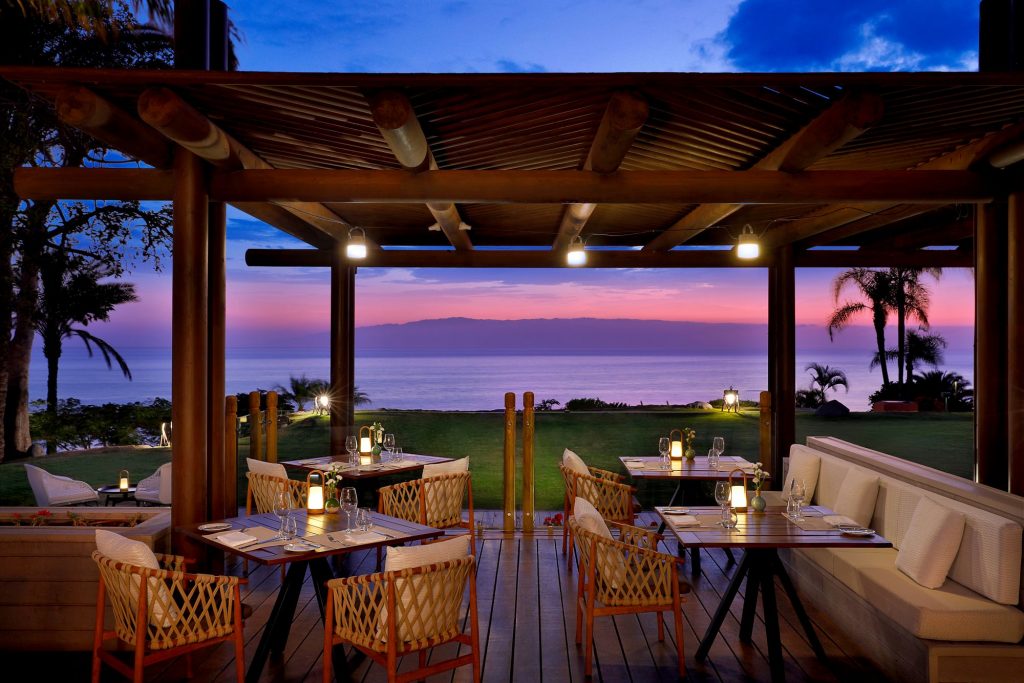 The Ritz-Carlton Abama doesn't do things by halves, with a delectable gourmet scene that serves up culinary excellence across a wide-variety of venues. There are suitable dining spaces at the hotel for both casual and formal occasions, so you can indulge in everything from a post-swim poolside sandwich to pristine Michelin-starred fare.
Abama Kabuki (Japanese) and M.B. (Gourmet) are the hotel's two Michelin-starred restaurants offering the highest quality cuisine amid an elegant atmosphere. El Mirador (Seafood) is another high-end venue, literally, since it serves up envious views overlooking the Atlantic Ocean and La Gomera Island. Its North African-inspired architecture and very own infinity pool add to the intimate atmosphere.
More casual foodie affairs (to name a few) include the Beach Club, which is a great spot for a sun-kissed seafood lunch, The Club House, which overlooks the spectacular golf course, and Verona, a cosy Italian restaurant serving rustic dishes.
Facilities & Amenities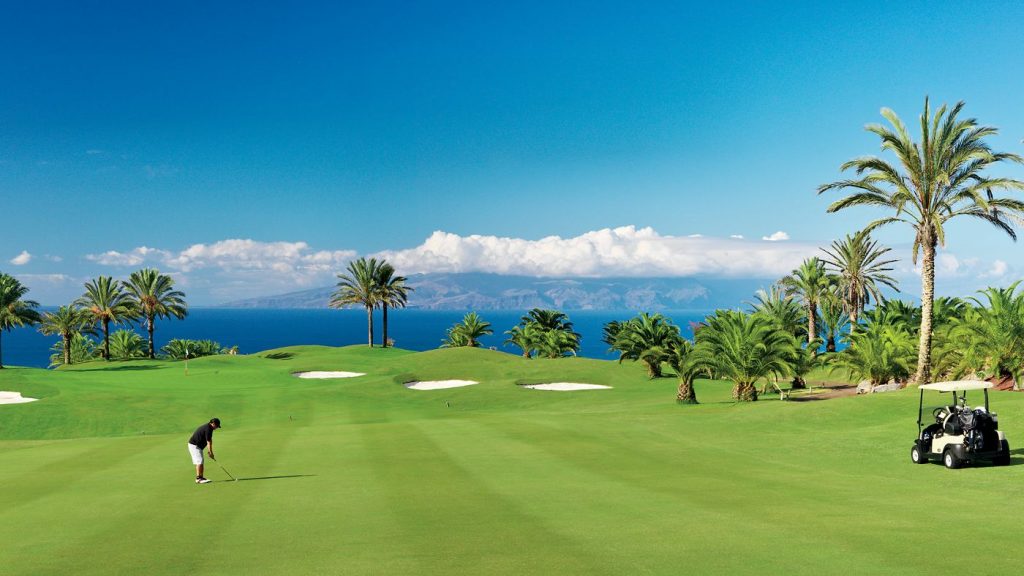 As you can expect, there's no end to this impressive hotel's facilities – its major draw being the 18-hole championship golf course and academy that snakes through its grounds. There are specially reduced rates available for residents that wish to tee off in this hot spot, or for those that prefer the swing of a racket, the seven-court tennis academy should do the trick – both of which offer unparalleled views of the ocean.
In addition, there are seven spectacular pools (indoor and outdoor) surrounded by luxurious sun loungers and Bali beds to unwind on, or you can head down to the beach – reached via a short walk or small train – complete with natural swimming pools.
If that's not relaxing enough, the indulgent Wellness and Spa Centre (covering 2,500 square metres) boasts a variety of pamper-worthy treatments as well as a sauna, hydrotherapy pool, dedicated yoga space, high-spec gym and much more. The perfect place to head to while the little ones are entertained at the Ritz Kids Club!
Local Attractions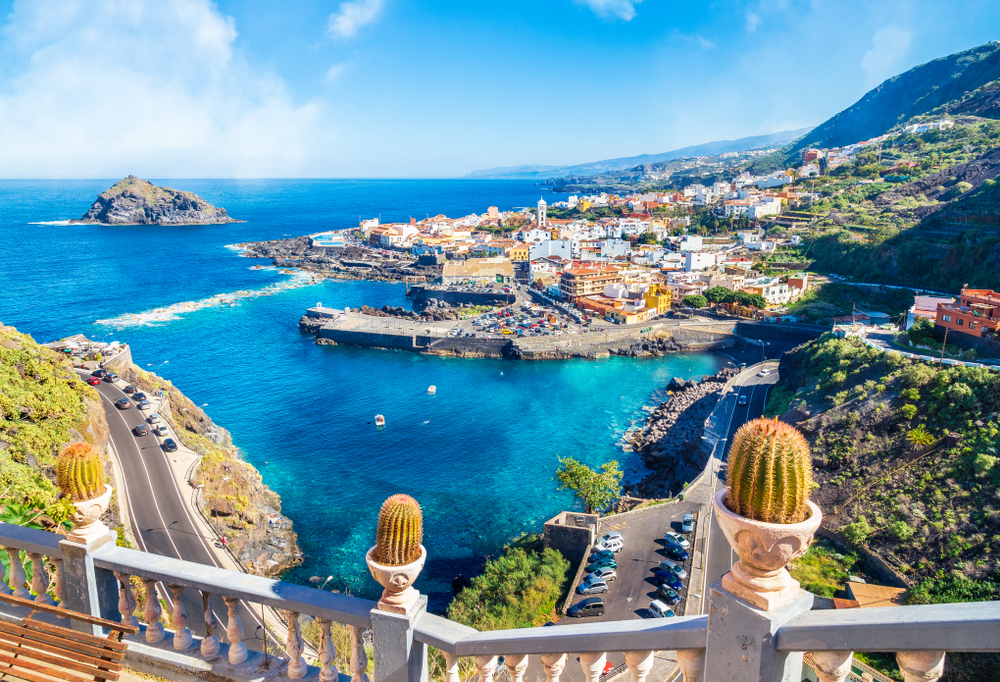 Since it's the largest of the Canary Islands, there's so much to explore in Tenerife. Once you've taken full advantage of the hotel's luxuriously landscaped pools, sports facilities, and state-of-the-art spa, why not head outside of the resort and get a taste for the authentic side of Tenerife?
The hotel's location in Guia de Isora places you close by to the famous Teide volcano, a must-visit for its rugged hiking trail and UNESCO World Heritage Site. There's also a wealth of activities, art and culture to discover nearby, with popular points of interest including the Auditorium of Tenerife, Science and Stars Museum, Wine and Honey Museum, the old port of Garachico and a flurry of exciting watersports excursions – from deep-sea fishing to diving, or a leisurely boat trip to the surrounding islands.
However you feel like spending your time, you'll never be short of activities on this diverse island.
A Timeless Island Retreat
All in all, this impeccable hotel offers a total oasis for guests seeking an away-from-it-all island escape; its wealth of facilities, amenities and attention to detail sets a high standard that's recommended time and time again.
---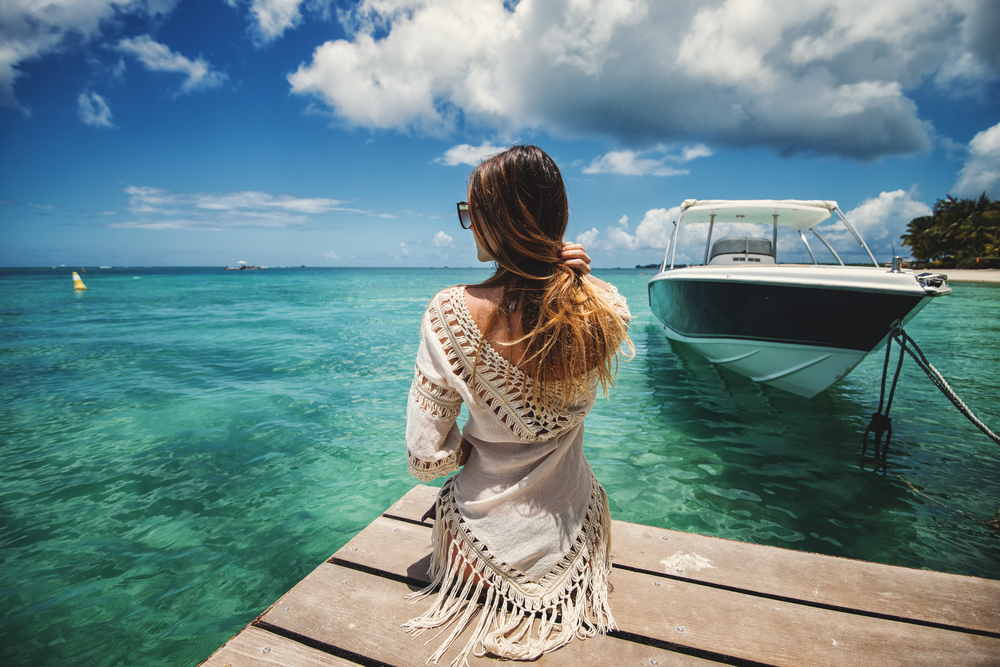 Premium holiday deals and special offers from Letsgo2
From luxury on the Mediterranean, five star luxury holiday deals in Dubai to serene opulence in the Maldives and cosmopolitan city breaks in the USA, we'll find your perfect holiday – for less.
Just tell us where you want to go and we'll find the best deal that will get you there in style.