With beating streets, world-famous architecture, a vibrant dining scene and sun-kissed beaches to discover, Greece's capital is nothing short of spectacular. Athens is the largest city in Greece and boasts some of the most incredible sites, tourist activities and excursions to tick off during your time here. Whether you're visiting for the weekend with your partner or you've got the whole family in tow, we've highlighted some of the top things to do in Athens below…
Admire Archaeological Sites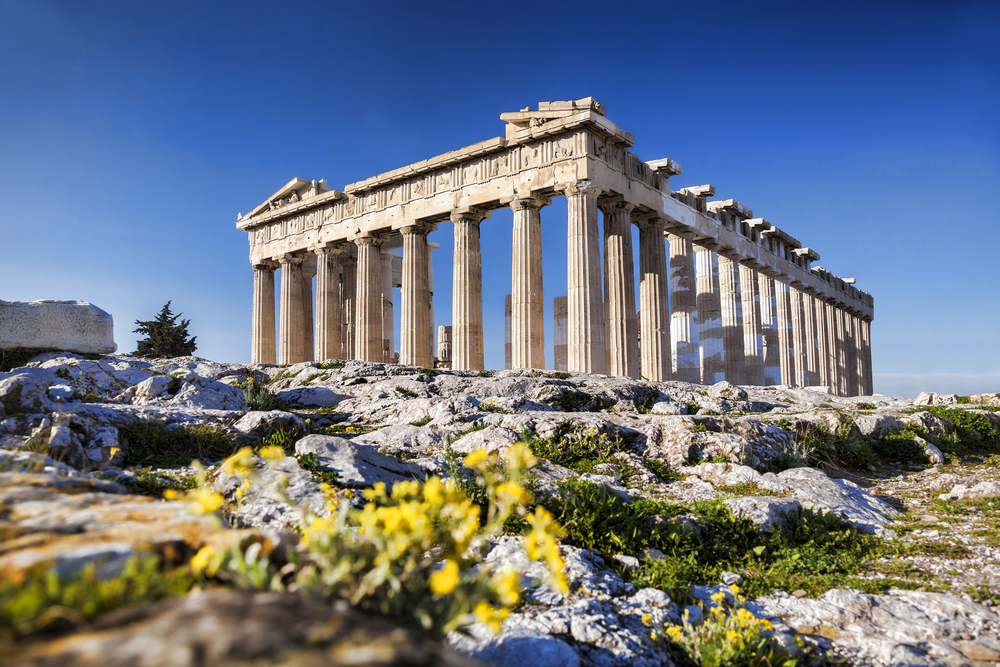 Crowned as the world's ancient capital, Athens is home to an abundance of awe-inspiring historical sites, varying from the Classical to the Roman times. A day trip to one of the city's ancient wonders is a must while you're here, whether you want to take a tour or explore at your own pace. The first place to head to is the city's most famous historical site, The Acropolis.
Also known as the Sacred Rock, this trademark monument has been one of the top attractions in Athens since the 5th century BC. Visible from almost everywhere within the city, the Acropolis sits elevated atop a rocky hill alongside The Parthenon, an incredible ancient temple that dominates the site. Other popular sites worth ticking off include the Theatre of Herodes Atticus, Ancient Agora, Filopappos Hill and the Theatre of Dionysus, to name a few.
Catch A Film At Cine Paris
Open-air cinemas are a popular pastime in Greece during the summer season, with almost every neighbourhood in Athens featuring an outdoor 'Therinos' – around 90 in total. Cine Paris is the most iconic, having been in business since the 20's it boasts incredible views over the Acropolis, making it a hot spot for film-lovers. You can watch everything from Greek classics to the latest Hollywood blockbusters here, and it has a pretty cool movie poster shop, too. Grab a drink, sit back and soak up the scenery.
Athens Riviera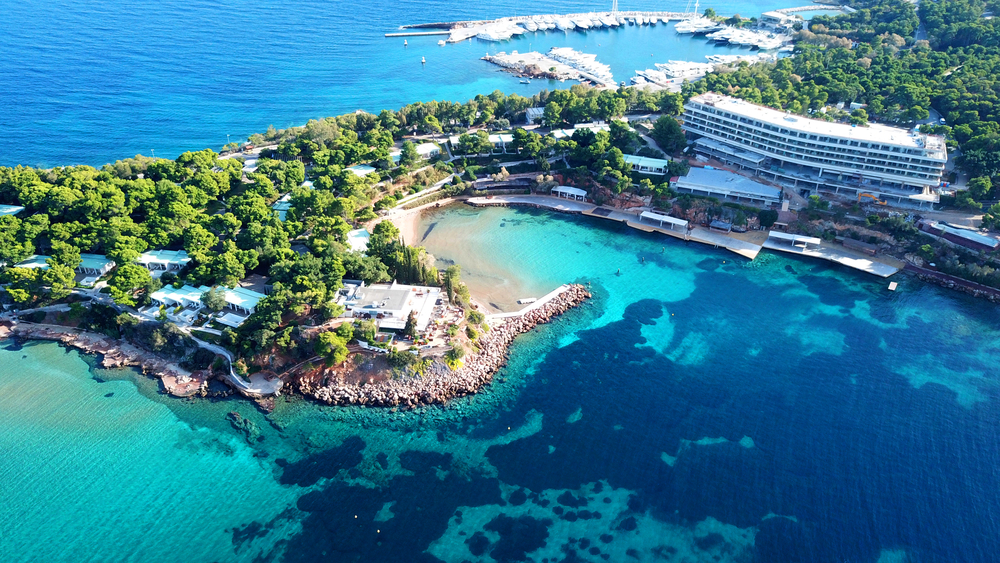 While the city is most famous for it's sightseeing, there are some beautiful beaches in Athens to sink your toes into, too. Athens Riviera is a coastal area in the southern suburbs and offers an entirely different type of experience compared to the beating heart of the city. The gorgeous resorts here are complete with sun-drenched beaches, rooftop pools, tranquil lakes and trendy eateries – and just 45-minutes from the bustling city, it's ideal for those after the best of both.
Asteras Glyfada Beach is popular with couples and families alike. This stretch serves up soft sands, beach volleyball, plush sun-loungers and, Balux, one of the best beach bars in the city where you can grab cocktails, sushi and pizza on the beach – now that's what we call bliss! In addition, Astir Beach (also known as Celebrity Beach) is part of the elegant Astir Palace, serving up a luxurious stretch of the Riviera coastline – as its nickname suggests. With great dining, watersports activities, indulgent sun-loungers to reserve and more, it's the place to be seen.
Limanakia Vouliagmenis, a small swimming cove enclosed by rocks, is ideal if you want to take a dip, while the natural emerald-green Vouliagmeni Lake (formed when its cave roof crumbled) is a toasty 22-29°c all year-round, perfect for snorkelling.
Explore The City On Wheels
One of the best ways to explore Athens – especially if you're travelling with children – is to get around the city by bike. There are a number of fun bike tours available across the city, whether you want to hop on an E-Bike or weave through the cobbled streets on a Dutch Bike. A tour guide will lead you past some of the city's touristic highlights, such as the Acropolis, Olympic Stadium, the National Gardens and more – so you can soak up the sights while you cycle.
Don't fancy all that pedal action? Hop on the Athens Happy Train. You can't miss it; this bright red toy-inspired train will take you on a 40-minute journey past the capital's most amazing sights. Starting at the Constitution Square, you'll chug past authentic neighbourhoods, ancient monuments, world-class museums and more. Feel free to hop-on and hop-off as you please to ensure you get the most out of the tour –ticket prices are €4 for groups, €5 for adults and €3 for little ones.
Eat Like A Local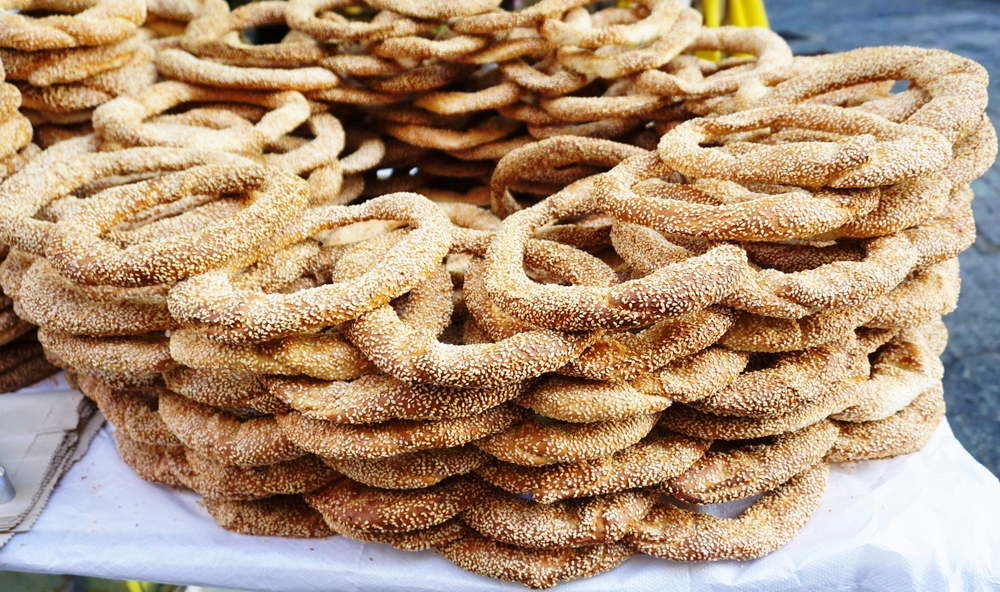 You can't visit Greece without over-indulging in its mouth-watering cuisine. It's a fact. From sweet flaky pastries to traditional hearty stews, fresh colourful salads and sizzling Souvlakis (not to mention the Ouzo), foodies will be spoilt for choice. Some of the best lunch spots in the city include: Kostarelos, for its incredible sandwiches, salads and dairy specialties (the fondue is a MUST); Ta Karamanlidika Tou Fani, a traditional family-run deli serving cold cuts of meat and a variety of Greek cheeses – you'll see them hanging from the window; and Klimataria, an intimate venue set in a century-old tavern down the backstreets of the fish market district – loved for its great food, live music and a charming rustic interior.
Want to explore the best of the city's backstreet dining but don't know where to start? There are plenty of culinary walks you can sign up to with a professional guide for reasonable prices, the Athens Food Tour Tastings with a Local, the Athens Twilight Small-Group Tour with Drinks and Meze Dishes and the Delicious Athens Food Tour are a few of the most popular.